This may get me in trouble. I'm sure to offend more than a few folks by not liking this thing but I got to go with my first reaction.
"Share to Get" is a service you can add to your website to share PDFs and stuff. Readers click the button, tweet about whatever it is they're getting, and then they get your e-goodie. There's also a Tweet2Download WordPress plugin, same thing which not only requires a tweet but also a follow. Oh joy.
I get it. The concept, the idea, give to get. Someone is giving something to you for FREE, so repay them with a Facebook or Twitter share.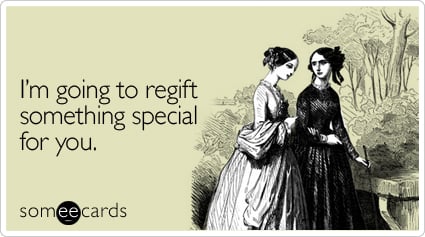 NOT a fan.
Believe me I repay followers and commenters with kindness and tweets and comments and link backs. Not just because they comment but because they contribute, they add value. It's a win for me that I can share their good stuff with my followers.
Kellye Crane and Jenny Schmitt shared the Consults Guide to Contracts PDF, hoop jumping NOT required. You better believe that – if I find it helpful – I'll share the shit out of it.
But I am not a fan of the quid pro quo, savors a little too much of the DoFollow or FollowBack crap.
Mandatory Gratuity added.
Opening myself to a host of hate comments as people have strong views on tipping but this 'Share to Get' the FREE whatever is just like adding a tip. You hurt yourself.
It assumes the service or gift is worth the tip or the tweet. Can't cancel or short that tip without making a huge stink with the manager. What do I do if I don't like my present, delete my tweet?
It stops me from leaving a BIGGER tip. If you add 18% I stop there, unless you did go way above the call. So you short yourself out of an extra 2% I'd have left. I possibly would have tweeted anyway, maybe even reblogged it and/or commented. Now, not so much.
"Don't go visiting my intentions." – Joss Whedon, Firefly
Like I said I would normally have commented or tweeted anyway, but taking that choice away from me with the mandatory tip tweet just hits me as wrong.
It's presumptuous and for that matter, I haven't read your PDF or e-book YET. So I'm retweeting blind, making an ass of myself with the fake RT.
Understand I KNOW that you worked your ass off to produce your content.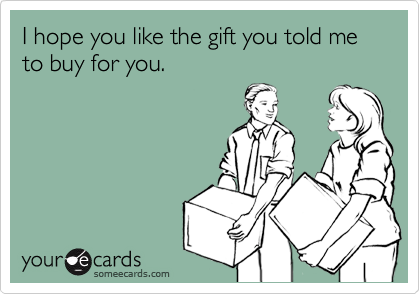 I respect your decision to ask for a share.
But if the ONLY way I can get your gift is to give you a tweet, then it's not a gift. It's not even a 'free gift with purchase." (BTW I love those, always visit the Clinique counter those weeks.. when I know what I am buying and getting for free.)
Forcing my hand, requiring me to comment or tweet; it's not like giving you my email. My tweets are public, represent me and the work I do to curate a following. I'm not going to spam them just to get something for 'free.'
Okay let me have it. Disagree, think I'm just ungrateful?
Photo credit: I'd be lost without the clever Someecards.
Want More? Keep Reading.