A few of my Twitter followers have complimented me on my tweets and retweets.
First, thank you. Second, not sure I can really explain how I do it.. my so-called creative process. That said, it is available for this limited time only and for $29.95 and a SASE it too can be yours. IDK follow some funny tweeters… that's what I do.
Tricks for a Clever Tweet or Retweet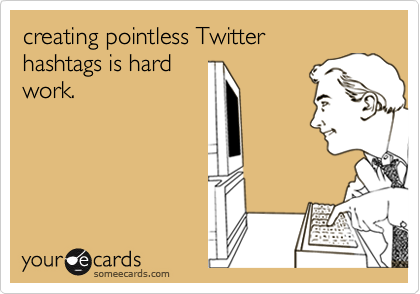 Be silly. Gini wrote about grammar pet peeves; I tweeted about being "edumacated."
Be clever. Maybe look into puns. I've watched Firefly and various Whedon products, so I'm big on the quippy dialogue.
Be creative. See also, Howie G HAIC (Head Alien in Charge) over at Sky Pulse Media.
Follow the lede. If the headline is WOW, lead with it then follow with a << comment. Griddy does this too.
Follow your gut. If you waxed pithy in your comment, by all means recycle that as your RT.
Make it up. Silly abbreviations and fake hashtags can be funny. #trustmeonthis IANADBIPOOTV
Answer it. If the headline asks a question, tweet your brilliant, profound answer.
Pop culture. Famous quotes and movie lines may be just the ticket.
Cautionary tales.
Just as there are good ways to tweet, there may be a few things to avoid.
Cliches. They can work but best to use wisely, sparingly.
Profanity. I use it, but usually when tweeting I'll change "bullshit" to the softer, gentler "crap."
Best EVER! Whether you're promising the best post, comment, picture or video ever, it's almost always a let down. Don't go there.
Good post, Bad headline? If the headline doesn't do a post justice, look for:
Clever bullet points
Smart quotes
Killer conclusion
Rocking comments
Usually there is something in the post and/or comments, something that will jump out as being ripe for an eye-grabbing tweet. Obviously this works best if you actually read the post before you RT it.
Best way to make a post tweetable: Shorter headlines.
I crack wise that my wit is wordy, an excuse for my shameful abuse of texting acronyms and verbose comments. Really though if your headline is shorter it makes it easier to add a little somethin' somethin' to it.
Marcus Sheridan writes some killer posts that also sometimes come with long post titles. May be good for SEO, but tricky for tweeting. So when Marcus wrote about ego getting in the way of business success, my RT process was like this:
Edit, edit, edit. I cut his headline to be 'Ego and dumbass mistakes.'
I added the intro: Is your ego writing checks your business can't cash?
I have no idea if my tweet got any more clicks, just an example. So that's my RT process. What's yours?
Photo credit: A Someecard.
Fine print: I WILL print and mail this to anyone who cuts me a check; happily cash it, buy myself some wine or go get my nails done.
Want More? Keep Reading.