The shortest advice on SEO: If you want to be found, you have to be findable.
– The end. –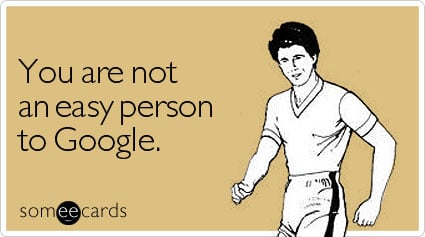 Tricky to fill this space with nothing..
some link friendly Atlanta public relations social media marketing keywords
Okay not really but you get the gist.
You want to blow up Google. You want searches for your name or your business to jump off the first page like a cliff diver doing aerials. Your ego wants that Google automated suggestion thingy (minus the autocomplete fails) mojo the minute someone starts typing your name.
Not talking some bullshit black hat scam or rigging the game, but genuine organic search results.
What's The Rhetorical of DUH?
How can someone locate your store if it's not on the map?
How can someone call you if your phone number is unlisted?
How can someone find you online if you don't have an online presence?
Online presence does not mean you have to be all over everything, just a strong showing in the right places.
Now if I can only solve the problem of how to get someone to look for you in the first place, I'd be well on my way to a tropical island of my very own.
Photo credit: Another post, another Someecard.
Want More? Keep Reading.