My love of blog comments is well documented. Find my comments almost anywhere, you'll see some love for comments: how they build networks, inspire new posts, make you laugh, learn and think.
One nice benefit of commenting, you win shit. How cool is that? Working my way up to a free iPad. (Spam bait!)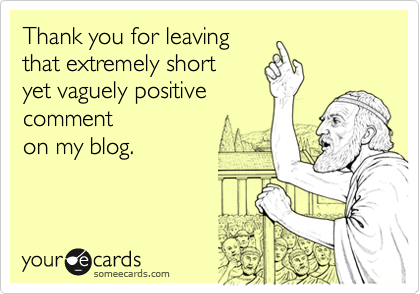 Thank You for your support.
I will tweet a thank you, certainly include my 'thanks for commenting' in my reply to your comment. And YES I will reply to each and every comment, even if to copy & paste "TY."
So when Brankica and Tia Peterson had this little Twitter chat about the post-comment thank you page on Brankica's Live Your Love blog, it made me think. It's only for 1st time commenters, so go check it out. IDK about you, but it's much nicer than a spammy popup ad.
It's got me wanting to do more to thank those who take the time to comment. I've got the CommentLuv mojo working, I try to visit other people's blogs and repay their kindness with a helpful or fun comment and/or a RT of my own when I can.
So here I am wondering what else I can do to show my gratitude to my guests, then there's this:
Now Shut The Hell Up.
Not gonna name the blogger, who is a smart one from what I can tell. But the other day I think for the first time EVER, I read this message when hitting publish on my carefully crafted message:
"Please limit comment length to 1,000 characters."
I think Ingrid Abboud's head just exploded.
WTH?! Seriously, I don't get it. I am all TEHO and we'll all do things our own way and some of you will even FollowBack and send spammy auto-DMs. I'll unfollow your asses, but you're free to do it. But limiting comment length?
This is approaching code red DAMNIT! Rant levels and I gotta ask, what IS this bullshit?
I have left monsterously long comments. Usually apologizing to Gini or Danny or Marcus who let me get away with it. Hell Jayme Soulati even turned one of my comments into a blog post on defining PR.
Telling me to shut it, after I've taken the time to read your post, read the other comments, then type a carefully and meticulously crafted reply full of profound wisdom and droll wit, only to see "shorten it, buddy" does NOT send me to my "I want to come back and comment here" again place.
Anyone? Bueller? Anyone want to give me an explanation? I. Got. Nothing.
Photo credit: BTW 'facepalm' has become one of my top search terms. Heh. These things are all over, this time Funny Motivational Pictures. And of course a user Someecard.
Want More? Keep Reading.