It's the weekend. You're tired, you're over it, you're looking forward to much needed sleep, family time and plentiful adult beverages. Not necessarily in that order.
You've missed many of the latest blogging hits and interesting news. Meanwhile your scheduled Monday blog looms like an anvil dangling by a lonely string of dental floss, precariously over head. Where to turn?
Content curation to the rescue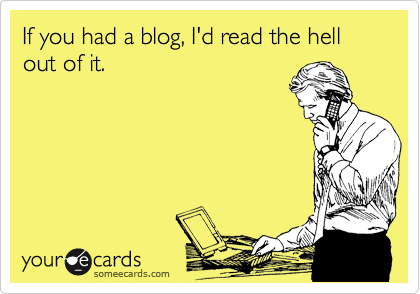 I subscribe to Sarah Evans Commentz and Jay Baer's 3-2-1 Connect. A lot of good bloggers review and curate other good blogs and articles for you and I've shared other curation lists before like Shonali Burke's Weekly Roundup of PR and social media posts.
Working for the weekend, here are a few more good "week in review" lists.
Thank the Reader, it's Friday
Kristi Hines (aka @kikolani) does a Fetching Friday list and this week picks many articles including tips on commenting before a RT, not to mention Stephen Colbert crooning with The Roots.
Gini Dietrich has dubbed her Friday weekly Gin and Topics, and includes a post on the Mythical Work-Life Balance. And IIRC twas she who introducte me to Lisa Barone's very topical Weekend Coffee links. Hmm.. wonder if I'm following any wine or Disney bots?
The 'Savvy Sisters' have a B2B slant to their Friday Weekly Wrap Up, so it's on my "I should really read more often" list.
Saturday Blog Fever
Sweet Sunny Saturdays is another great blog round up. Like many of these lists, Brankica sometimes introduces me to new people and reminds me to visit some blogs more often like MarianLibrarian.
I kinda liked that Beth Harte was late (makes me feel less a slacker), ran this week's Saturday Morning Reads on Sunday with a closer look at the social side of CRM.
Bloggers feast for Sunday dinner
Ingrid Abboud has the SuperPost Sunday sampler with tons of links including posts by Mark Harai and Paul Wolfe. Hell this week's list I there may be only 13 bloggers that didn't make it. 😉 Which is to say it's a thorough look at social media, introducing me to the notion that 'spammers are people too.' Had to read that one.
New to me, Jason Sokol does a Sunday Shout Out post even giving me some love a couple weeks ago. Nice.
Do you publish or know about a great  marketing, PR, social media weekly recap? Add it to the comments, I'll read the hell out of it.
Photo credit: Going to the Someecards well, too easy.
Want More? Keep Reading.