In PR and social media we've assigned ourselves all these rules: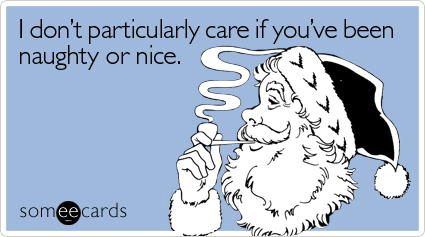 What works in marketing and public relations for one person, may not for all.
I am a strong believer of the "everyone their own way" philosophy. My way is best for ME, as I define my own rules. Yet I'd be a liar if I didn't have expectations for others, how they should conduct themselves online. There ARE rules, socially accepted norms and professional standards of practice. There are times when you're not walking the talk, when you are doing it "wrong."
Twitter
Do you tweet? Nice, but not required.
Do you tweet mostly about yourself, your blog, proclaim yourself an expert? Naughty.
Do you auto-DM spammy crap? Naughty!  Augie Ray's got a plan to stop auto-DM, which is nice.
Do you @reply, retweet others, get out there and mix it up? Nice.
Do you broadcast the "ME ME ME" marketing channel 24/7? I say you're doing it wrong and naughty.
Do you show your human side, show YOUR balance in the "personal vs. professional" challenge? Nice.
Do you overshare and Tweet things you should not? Naughty.
Blogging
Did you blog? Nice, also not a deal breaker.
Do you hit people with popup ads selling your e-crap before they get to know you and your blog? Naughty.
Did you respond to comments? Nice.
Do you ignore comments, respond rudely and unprofessionally? Naughty.
Do you not allow comments? I'll say you don't "get it" and go with Naughty.
Do you read and share other blogs? Add comments on other blogs? Nice.
Ask for readers, preach "comments and community" but rarely step outside your own blog? Naughty.
Public Relations
Do you keep your PR pitches short, sweet and on target so they don't get deleted? Nice.
Do you broadcast fax, tweet or email spam releases? Naughty.
Do you have your experts ready to go, images ready to send? Nice.
Do you send vague, off topic, inappropriate bad pitches? Naughty to waste a writer's time.
Do you treat journalists, editors, bloggers with respect? Nice.
Do you treat some reporters or bloggers like second-class citizens? Naughty.
Do you have your head up your ass for anyone not on a so-called A-list? Naughty.
Do you fact check, cut the bullshit, can the buzzwords and give reporters a real story idea? Very nice.
Do you retell the same old story in the same lame ass badly written ways? Tres naughty.
Are You The Exception?
Do you neither tweet nor blog nor "engage" and instead spend your time working hard, delivering great products and services that market themselves, laughing all the way to the bank? Good for you and it'd be super NICE if you'd tell me your secrets.
Feel free to add your own "Naughty or Nice" in the comments. Thanks for reading and have a very Merry Christmas.
Want More? Keep Reading.