This guest post is by the well-above average Brian Meeks.
For the record #teamfollowback, I will not 'Follow Back', I will block, and likely report for spam.
I have started to see a hashtag #teamfollowback in tweets and bios. It makes me tingle, and not in the fun 'my date has had 3 vodka tonics, I bet I am looking pretty good right now' sort of way. It makes me cringe because these people don't get it.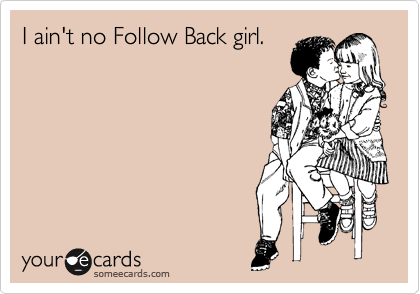 Please let me rephrase what they are saying:
#teamfollowback = Hey, please follow me, and I will follow you back. Do I care about what you are interested, of course not; I am a princess/prince, who desperately needs the external validation one gets from having 50,000 adoring fans. I want to be on Jersey Shore. My parents don't love me.
(Note: I am really not the woman in the bikini pictured, but actually a 50-year old balding male who 'takes care' of his mother, from her basement. I bathe on days which begin with a T.)
To those who don't quite get my point. Let me be a little less, well, of an ass. It is like this, if we want to have success in social media, we need to be, well, for lack of a better word, SOCIAL!!! You stupid pratt!!!  Sorry, I lost control there for a moment.
Imagine that Twitter is gala party.
Everyone has on their best formal ware and is thrilled to be invited to the affair. There is music, champagne, and little bits of food, which are to die for. There are also celebrities. You think to yourself, everyone who is anyone is here, so this is a great place to talk about Amway.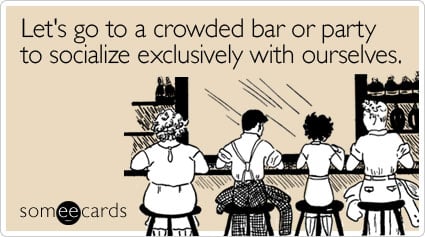 The problem is that you have been invited to the wrong party. The list was created from people who are much like you, completely deaf.
Everyone there is selling how great they are and getting drunk on their perceived power. They wonder through the crowd and follow all the people who are wearing neon signs, "Follow Me…I'll Follow You". A few hours later, or perhaps days, they have a massive army of people who are just waiting to do their bidding. The problem is…they don't.
Nobody can hear their pitch. Every one of their followers is deaf. You don't know a single person's real name, what they blog about, who they root for on Sunday afternoons. [Editor's note: Or Saturdays, as this LSU fan cheers G-E-A-U-X Tigers!]
When I see that in a bio [AKA crappy Twitter profile] not only do I usually block the person, I block them and often report them for spam. There are other offenses which can get a person blocked, like having only tweets with links, NOT having anything personal in their stream (Yes, I do care what you had for breakfast), or simply following 800 people while you only have 100 followers. It makes you seem a bit needy. It is also how spammers build their follower base.
Twitter takes time. [Editor's rant: Twitter is WORK, damnit!]
Follow a few people, watch their tweets, and if they seem friendly, then strike up a conversation. You will find you have much more fun and people won't assume your parents hated you.
You may read people, gurus if you will, who tell you NOT to tweet trivial stuff. They are idiots! It is the trivial which lets us see the real person. If I tweet something about the Ohio State Buckeyes, it may be trivial, but you can bet, a comment about the tweet (even from michigan fans [I don't capitalize the m word]), will get me into a discussion.  [Editor's note: GASP! To discover I'm following a Big 10 fan, yet I agree with you mocking michigan. As you should.]
The simple tweets about our lives and struggles are the best, in my humble opinion, so don't feel everything has to be "Guru Approved."
Just remember the famous old saying, "You get more runway models with pharmaceutical grade narcotics, than you do with links to win a free iPad." Wait, I am not sure that is it, try this. "You get more bees with honey, than with links to sure fire riches from Twitter schemes." Yes, I think that is the one I meant.
Be real, be friendly, and don't follow for the sake of following.
Guest poster Brian Meeks very own not crappy bio: I have delusions of novelist, am obsessed with my blog, college football, and occasionally random acts of napping. I also Mock! Will follow cats & guinea pigs. My first novel, "Henry Wood Detective Agency" is scheduled for release the 1st week of June.
Photo credit: I wrote that exact thing, complete with Gwen Stefani's singing and voila, someone has it on a Someecard. Brill.
Want More? Keep Reading.