A more personal post today and since I'm a private introvert this 1) will be short 2) as exciting as watching grass grow. In January.
I turn 40 today. (Disclosure: the gravatar picture is way old, working on an update.)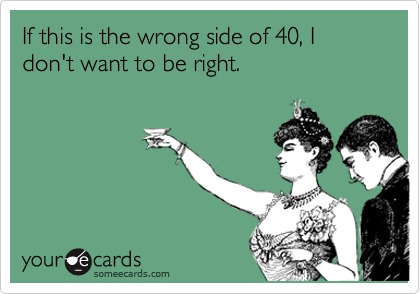 Blogging about the turning 40 milestone, I have no smart list of what I've learned so far. Except floss, you should really floss.
IF I knew then what I still haven't figured out now…
I so would have taken that engineering scholarship. Maybe. Probably. NOT that I don't like this but you know road not taken, all that crap.
I've been winging it, should have had a plan. But what 25-year old really plans their lives? Not this one.
I would have worked harder on my career, not just my jobs. I'd have paid more attention to so much, done more for my career than just doing really good work. I should have networked more. I have worked hard, when I should have worked smarter.
Over the hill? Not the middle of nowhere but it's got a nice view
I work to live and am working on loving my work. I'm still a kid at heart with my WDW workcations and sunny cruises; card, food and wine all-nighters; and of course quality time with family, friends and the DVR once in a while.
Am I freaking out? Not really just enjoying a little reflective whine. Big plans? A celebratory trip this fall but nothing tonight. Maybe dinner, some wine, covering my gray and probably getting a head start on a longish weekend. Later.
Photo credit: had a hard time picking the user Someecard, so many good choices.
Want More? Keep Reading.