Been considering influence and Twitter scoring a while as this post toiled away in drafts, then got 'scooped' by the damn New York Times over the weekend. Sheesh.
Is influence a myth?
Oprah liked a book, it sold millions, the publishers and book stores were happy (you KNOW they miss that action!). Influence, right? Friends know I'm a Disney World fan, so I get asked for tips and tricks, restaurant and shopping suggestions. If they act based upon my advice, influence yes?
Why did people buy the books Oprah picked? She's a celebrity whom they trusted; viewers felt they had a relationship with her. People know I've been to WDW a lot, so they trust my experience.
How do you rate, measure that? Maybe that's the illusion.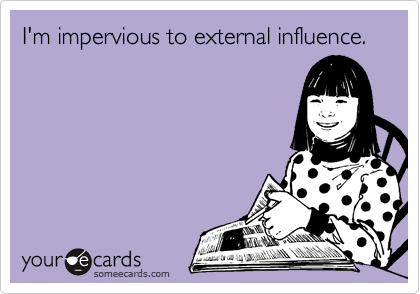 Jayme Soulati and Jenn Whinnem got me thinking about influence and Klout, a scoring system (see also: Twitter Grader, Peer Index) that looks at a person's online influence.
Klout measures online influence by scoring social networks, specifically Twitter, Facebook and now LinkedIn. (YouTube, your blog, your comments, other online activities can all suck it.)
Twitter. My own like of Twitter certainly skews my appreciation for it, but I have no disolutions of its influence. I may get more posts RT these days, but it's because of the networking the comments elswhere that have built relationships, grown an audience. Big name tweeters like a Brogan or Kawasaki may get 50-100 RTs per tweet or link but then, how many are automated, regurgited junk? How many actually get clicked? See also, a major site post that has 1) great headline and 2) 257 RTs and 3) 6 comments.
Facebook. My own FB bias taints my views on this as well. Work and play are separate; different networks, different audiences with ENTIRELY different goals. I have goals via Twitter and LinkedIn to build a network and reach clients; Facebook I visit to say 'hi' to friends, play Farkle once in a random mood. For me and many others, Facebook has no relevance to my professional influence, so I haven't and won't add it.
LinkedIn. Again with the different audiences, but with a fair amount of Twitter crossover. (Speaking of which, the autoposting every tweet to LI, please make it stop.) Added my LI today, suspect my score will drop as I'm not as active on LinkedIn, but at least it's business and interest relevant, so there's that.
What's the problem?
The scores can be gamed, rigged, artificially inflated. Google shows some 90K posts on how to raise your Klout score.
Tweeters take time off. Collin Kromke's Klout score went up while on vacation, Mark Schaefer's down.
Say who? It tells me that some of my influencers are people with whom I don't engage (though the latest changes have it more accurate).
My biggest problem, aside from Facebook: Klout and other tools don't measure the Why, motivations we have for sharing something: Am I tweeting or LinkedIn only to curry favor with an A-lister that'll ignore me the rest of the time? Is it boredom, interest? Was the tweet actually read, clicked? Is it because you're part of a Tribe?
To be fair having a 'standard' unit of measurement has its place. It's a work in progress, Klout is a fair judge of my Twitter usage; I'm just not convinced what it measures is influence. Thoughts?
Want More? Keep Reading.