Ah, holidays.. can make fodder for a blog post. (I'm learning.)
Marketing a Holiday
Crass commercialization aside, holidays give you an opportunity to reach out to your customers.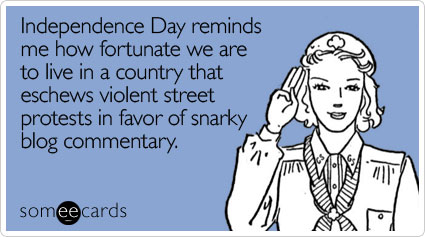 Special newsletters, postcard greeting, email campaign, phone or Skype call to check in before someone goes away on holiday break.
Seasonal pricing, summer deals, unique products only available this time of year.
Are there routine service calls that could be scheduled? Time for a review or update? Promote a mid-year check up.
The Long Weekend
Don't you just love these?
This Fourth of July weekend is a great excuse to turn of the iToys and celebrate your digital independence for a few days. Enjoy your cookouts and ballgames, beaches and lakes. Maybe wave some flags, go see some big blockbuster (no scratch that, this one looks worse that the last), ooh and ahh at some fireworks.. pretty.
And for those tough enough to brave the Peachtree Road Race on Monday, I'll think highly of you as I sleep late that morning. FWIW.
Want More? Keep Reading.