I don't get it, think maybe I really am doing it wrong.
The Numbers Game. The Site that Shant Be Named (nor included on a resume!); not because my 'social credit score' plummeted – as I expected what with the vacay and Great Algorithm Blasphemy of 2011. And no this isn't just another rant, I just think Klout (said it) is the social media equivalent of the BCS. (Geaux Tigers!)
I see snooozzzfest posts get 100s of brainless RTs, but a handful of comments and zero trackbacks doesn't speak 'clout' to me. I see crap lists of quotes, factoids and stats get reblogged and lauded across the webs by that tiny group who cares, while better fare sits undiscovered and sans 'influence.'
I cling to the idea that my personal influence or lack thereof isn't relevant or really, online. And my self-hosted business blog should be part of the equation.
I can truly engage – perhaps even influence others – until the cows come home, buy property, open an emporium of caffeinated beverages and overpriced baked goods, but that truly can't be tracked, scored by some automated formula.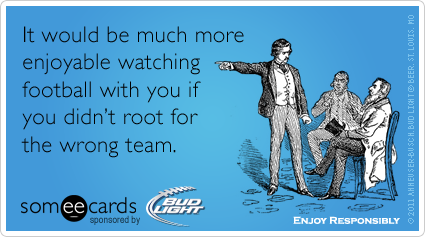 Cult of Personalities. Really? Celebrities, sports stars, a TV show I can see how fandoms develop; been there, done that, have the secret profiles to prove it. In the business world, we all have our gurus and favorite leaders.
But when it turns fanatical? You 'like' this team, that show, just so you can mock fans, troll review posts to sling insults like the anonymous dickwad you are, all because they dare like whatever or whomever you don't. That, I don't get.
"The social media in-crowd sometimes acted like a collection of Mean Girls. The real world didn't notice or care." – Forbes, on Social Media Lessons
See also when a smart blogger dares to challenge a 'social media guru' or marketing legend; hell hath no fury like fandoms irked when the wisdom of their 'rock star' is questioned. And FWIW I really ain't sure if the 'star' status is anything more than a touch of echo chamber celebrity, cloaked in popularity, masked in a bestseller's book jacket and next week's speaking gig.
Paint by the Numbers, Social Media style. Someone said you should 'do' social media, so you bought the kit, the formula for what success should look like. You blog on schedule, create 'content' to drive traffic, have the obligatory Facebook page and are Twittering tweets. But it's nothing more than token effort for appearances:
You barely engage anywhere – even your own blog.
Your company's Facebook page is where crickets go to comment.
Your Twitter feed is a 'Look at Me' personal branding broadcast channel.
Frustration. That is something I get as I look back on 2011. I hit some goals, missed others (another post). I tried different curators, sources and searches, found more sameness. I ventured away from familiar waters looking for those biting fish.. and met mostly other fishermen and women.
Not walking away from social media or blogging anytime soon – too in love with the sound of my own typing for that. I don't get what I'm doing wrong, except spending to much time 'talking' and not enough 'doing' – guess some changes are a comin' for 2012.
Enough navel gazing. Your turn, go:
Want More? Keep Reading.