New category today: How dumb was I?
Looking at what got my really got my blog going  – the comments, the engagement – I've started revisiting some old posts.
Why? The game is changing almost daily. Marketing, public relations, social media are such dynamic fields, you can't afford to become complacent or fall into any of the influence traps.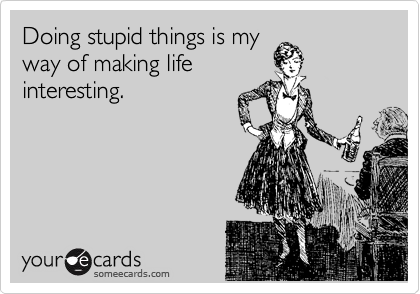 Observations.
I lurked for a long time. I really waited to start writing my own posts.
I didn't stay quiet for very long. If the old BackType profiles were still active, you'd see a ton of blog comments.
When I did start really writing, it did not take me long to identify my niche, my voice. I take more chances with the purple prose and poison pen, the snark and the sass, the funny pictures.
First up, my thoughts on embracing social media, how to represent myself as a professional.
What I said then:
On joining social networks: It can be easy (and dangerous) to think social networking can take the place of other means of marketing or relationship building.. social networks can help build relationships, helping you engage your customers and your community, not just talk at them. Or so I'm learning.
On personal vs. professional: I've been honing my strategy for using social networking tools. The more I do this, the more I know I'm right to keep a little healthy separation between my personal and professional social networks.
What I think now:
I still think real world networking matters, made it one of my 2011 goals. I still believe in the divide between personal and professional, that it's right for me. I joke and comment about it all the time, that yes this is the REAL me but not the WHOLE me. There are things I don't share as a professional:
Private and/or Personal. I'm an introvert so there are things that even my BFFs don't know, but anonymous Twitter "friends" do.
Irrelevant, Boring, Mundane. AKA my life. It's why I don't bombard my FB or Twitter status with lunch updates.
Mean, bitchy, inappropriate and ranty. That's what secret Twitter accounts are for.
What you see: I've never hidden the fact that this is business, this is about networking, developing myself as a solo PR. What you get: Professional, with a side of boring. I drone on and on about PR and social media and marketing, and you've been warned.
How dumb was I? Not very. I was smart to finally, "officially" dive into social media. I've learned a lot, made some great friends and really grown as a professional communicator. FWIW.
Want More? Keep Reading.