We know how Follow Friday is supposed to work. I'm doing something a little different. I've hit that 2,000 following wall so I've had some Sophie's Choices to make: Whom do I UNfollow? (Hat tip to Scott Stratten.)
How do I make room for new folks like Shakirah Dawud with whom I am already engaging? Just "met" her but we've had some nice conversations via our blogs and Twitter. I want to be open to meeting people, having the chance to follow them.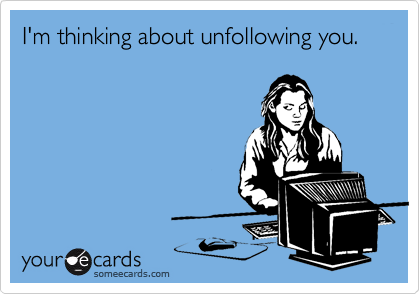 Making Room
Untweeps cleared out some dead weight, long lost tweeters and the like.
Friend or Follow surprised me a little. Find it interesting that my follower/following is not all the same people. Nice to mix it up, see different things and share that with different people.
TwitBlock with its cute ghostbusting logo is a good spam be gone tool (mostly clearing out spammers following me).
BTW Thanks to Neicole, Jenn for sharing some of the Twitter cleaning tools.
Bye Bye This is Seth's Blog. Nothing personal.
Flushing spammers is one thing, but now it gets tricky. So this is what I'm doing:
Gone are some of the automated feeds for news and blogs. Easier to ignore those via my always sent on "mark all as read" Google reader.
If you have 5-20K followers, Mr./Ms. Insert [social media network] Expert, your clever tweet will turn up in my stream anyway. Unless it sucks.
Zapped are a few duplicates. Multiple Twitter accounts, deal.
On the bubble are a lot of media accounts, just feeds or inactive reporters and editors.
I still sit somewhere between Mark and Mitch on an open Twitter policy vs. a more strategically selective following, but my selectivity is shifting.
Kelly Taylor moment
I choose Me. It's my Twitter. What benefit do I get out of it? How will that help me help others?
I want to keep my Twitter stream interesting, not boring. I don't want to isolate myself and listen to the same old; I've kept around those with differing opinions, to keep me honest. I don't want to get stuck in the talking about just PR and marketing and social media ruts. So I follow feeds about TV, sports, wise-cracking farm animals and am so glad Danny shared some non-business blogs to read.
I want to get the most out of my Twitter stream, which means following those who speak to me, engage me, motivate me, make me think however annoying or painful it may be.
Maybe it's time to look at the stream, clear some TweetDeck columns. Whataya think?
Photo credit: Been in a Someecards rut, but they're just so perfect.
Want More? Keep Reading.