My general approach to Follow Friday goes something like this:
Don't suck at it. Unless you're into that sort of thing.
Skip the usual suspects from the likes of public relations, social media and marketing. NTTAWWT, but there's something to be said for fighting sameness and shaking things up a bit.
Show some gratitude and support for some of the best commenters on the Internets, MY commenters. I'm biased, these peeps rock. Deal.
All too easy. (Hope the Schwartz was with you Wednesday.)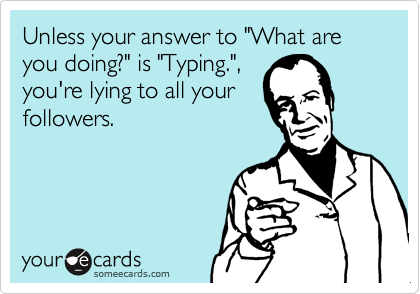 Bill Dorman. Full-time insurance guy, part-time Marcus Sheridan impersonator. He pretends to be a basic, invisible blogger but I see right through that malarkey. His comments bring hilarity to any post, of the LMAO variety. Don't believe me, just ask him.
Jayme Soulati. I said 'usual' suspects and she's anything but that, and I so do NOT believe I haven't picked her before. Woman on a mission, she's launched the SMB Collective AND has been tackling heady topics like defining PR and Influence. Plus her blog is just the right shade of Tiger purple.
Riley Harrison. He blogs about untapped potential and writes some straight up, direct comments that make me think, smile, and laugh.. that certain 'no bullshit' style of comment I just dig on. Plus he helped inspire this post, reminding me to show some love to my favorite commenters.
Christina Crowe. Relatively new to my blog, I so jump for joy when she drops by because hot damn her comments are as good as anything she blogs. Not surprised to see her picked by Stu, she is just the kind of person I want to comment on my blog. Plus she thinks I'm funny, and that's just good for my ego.
These fine liars tweeters are welcome in my blog comments and Twitter stream anytime. FWIW.
Photo credit: I'd be lost without the Someecards.
Want More? Keep Reading.