It's been a wacky few weeks at this house of blogging horrors.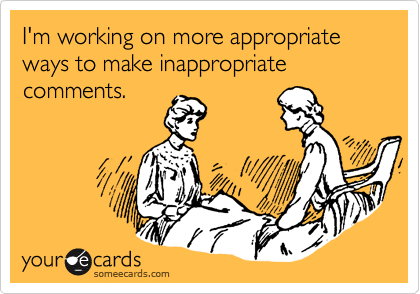 I was the 1 millionth guest at McDon.. I posted the 10,000th comment at Mark W. Schaefer's, part of his ongoing love affair with community.
Marcus Sheridan cheated and bested me for the top commenter over at Griddy's place last month.
Paul Wolfe wrote a good comment, turned it into an even more gooder post on 5 styles of commenting strategies. Lucky for me, it's not about grammar.
Stuart Mills picked me as one of 20 bloggers you want to comment on your blog and Jayme Soulati dubbed me Banter Queen of the Blogs.
I possibly offended a commenter elsewhere, with said banter and my off-topic links. Huh.
Why you DON'T want me to comment.
I comment. Often. The more I like you, your blog, and/or your community, the more you see me and the longer my comments, as I'm quite fond of the sound of my own typing.
I comment. A lot. I'm one of those 'last word' types, will reply to your reply. The cycle, it is Vicious!
I joke. I quip. I share Despair links. None of which guarantees actual funny.
I use odd words and post in coded acronyms, may have to issue a decoder ring soon.
I see your 'Like' buttons and ain't afraid to use them. Even if someone's disagreeing with you.
I like the community and will chat up other commenters, extend the courtesy of reading what they wrote about your wonderful or less than fantabulous blog post.
My replies to you and others could be to debate, discuss, amuse or bewilder. Six to five and pick 'em.
If you have CommentLuv enabled, I let it do its thing.. sometimes help it picking different posts.
Danger, Will Robinson. I actually read your post, the comments and WILL tell you What. I. Think.
If this isn't in your wheelhouse, then by all means: UNFOLLOW! BLOCK! REPORT! and otherwise blacklist me from your site. Your house, your rules.
Stacey Herbert, shared a control freaky comment policy with me. I have to remind myself there are reasons people don't like Livefyre and engaged communities, just as there are those who do. Not everyone likes the fun on a blog and for that matter, one person's fun is another's Saturday afternoon torture.
The 10th reason you don't want me comment bombing your blog: You tell me.
Want More? Keep Reading.