This is good! Smart, clever and fodder for (hopefully) a quick-and-easy blog post.
Two Words. And a Gift in Return.
It's so simple right, "Thank You."
Maybe it's a little note card or an email, could be a DM or LinkedIn message — when someone does something for me, I try to say "thank you." I've got some cute 'coffee cup' note cards, even add Starbucks gift cards to them on occasion.
It's marketing. It's social. It's good PR. It's etiquette, good customer service. And how often we forget that a simple "Thank You" could be even more.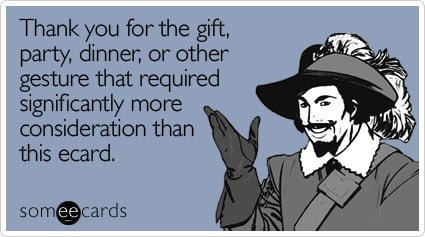 Daily deals being not quite dead yet, I ordered a Groupon a few weeks ago. It was a 6-pack of Cameron Hughes wines, a label I'd seen before and knew this to be a nice bargain for some drinkable vino.
"Treat every customer, online and in person, as though he or she is the most important customer in the world." – Gary Vaynerchuck, The Thank You Economy
Opened my box and inside was a great little "Thank You" postcard. On the back was a recipe for Chinese Spiced Pork Chops which would pair nicely with the wine, bringing the VALUE we so often speak of in hushed and reverent tones.
You bet I'll keep it, remember this label for years to come. It was a simple, cost-effective way to bring their brand to a whole new level.
Small Business, Take Note!
This wasn't an accident. This wasn't dumb luck. Someone developed a strategy for business success.
This wasn't a last minute whim, someone executed on a thought out plan with the customer in mind. This was professionally designed and printed, communicating a strong, positive brand image. Rather than just talking value, this brand delivered.
Think of the touch points you have with your customers – connecting doesn't end when the credit card runs through. What comes next matters.
This is why I reply to almost every comment, why I thank people for RTs – I truly appreciate what others do for me and want to make sure they know it.
Tell me: When has a brand or business surprised you with their service after the sale?
Want More? Keep Reading.