3 for 5 I guess on the 2011 Resolution Scoreboard.
Bionic Blogging, Check. Terrific Tweeting, I like to think so. I stayed even on LinkedIn, not more not less. I got out of the office and comfy clothes for a little 'real world' local networking but not enough. Revamped website and lighting the SEO on fire with superior biz managment, tragic fail.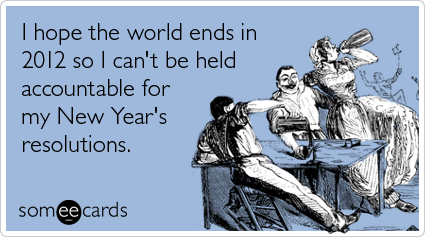 The Year that Was
If the economy was rebounding I certainly saw no signs of it. Most people I've talked to are just as reluctant to part with any money, make any moves. (I've got a nice rant cooking.) They want all the emails and inbound marketing and 'free publicity' and social media juju – right now! – still don't want to work/pay for those great expectations.
The Year that Will Be
Like many a person making resolutions this time a year, motivation isn't the problem. It's understanding the goals and objectives. It's a matter of prioritizing change and making this part of my life forever, not just this year.
Less is more blogging. Twice a week isn't a hard and fast rule; if I'm not feeling it, I won't force it. I engage enough, share enough, so I'll take off some of the pressure.
More me. I have to find a way to incorporate more examples, what I know, what I can do. I'm a generalist, working with all kinds of small businesses – B2B, B2C, in Atlanta and parts elsewhere. Did you know I've worked with franchisors in the past? Surprised Adam Toporek with that one.
No more Cobbler's kids' shoes. My blog is part of my portfolio, part of my networking and social strategy is to drive traffic and deep-pocketed clients to my website, then damnit – I need to WILL roll up the sleeves, learn more WordPress and redo the website. Something with some SEO and hopefully, a functioning RSS feed.
Hire Me. The resume, it's gotta get updated. Why? Whether it's for a full-time gig or a consulting job, my resume, CV, fact sheet needs to be right. See also the LinkedIn profile.
Go forth and conquer. Find opportunities, don't wait for them to find me. Get out and ask for the sale. Be more assertive, aggressive. This will be the toughest, without a doubt.
Live healthier. This is not some bullshit short-term thing targeting a random weight-loss number; for real this time. I'm too young to be this old. I will opt for the flight of stairs, a 30-minute walk or one less coke a day, do what I can to live and be a little healthier.
Get it Done
I know I'm not the only one who's struggled, so this isn't a whine. (Wine, maybe.) Nah, this is just the first of many hard looks at realignment, recalibration (go team!) that will continue throughout the year. I'll be back every three months to update you – and myself – on my progress.
Hat tips to Paul Wolfe, Judy Gombita, Neal Schaffer, Neicole Crepeau, Mike Zavarello and many more for their help and encouragement. Here's to 2012, I'm coming for you.
Want More? Keep Reading.