My grandmother could walk out the front door, take a deep breath and smell a sale 20 miles yonder way. Someone had mis-priced refrigerators in the ad, she was there making them honor the deal. She saved my grandfather 'millions' over the years.
Maybe it's genetic but I've always been a bargain shopper. Why would I pay retail when, most of the time, I can do better on the sale rack or Priceline? (And yes I know faves like Apple and Disney come at a premium.) More bang for the buck is my motto, and when the bucks are limited, sales are the only way to go.
I likey a good bargain.
Groupon, shares trying to bounce up to fraction of market cap, may have 'started' it all but offering one-time deals to new users in hopes of expanding customer base, that's nothing new. In loss leader, Econ 1001.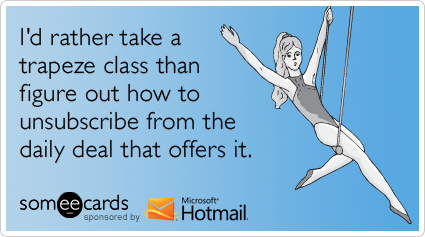 Enter LivingSocial, Facebook, Google Offers (who have to be doing cartwheels now, after having Groupon reject their $6 billion offer). See also regional, local action like Deal Chicken, ScoutMob, many of which are partnering with local media – who already have relationships with advertisers.
No crazy hang gliding or extreme teeth whitening, but I've bought a few, mostly restaurants and services I'd use anyway. And I kick myself for not buying more than one when my local wine store ran a deal.
What's the deal with deals?
It's not rocket surgery, deep discounts for new business – you're trying to build customers, get people to try, to buy and keep buying.
Catch #1: Are they the right people? Deal shoppers seldom are; most are samplers like me, happily going from one to the next.
Catch #2: What of existing, long-loyal customers? Where's their deal in your CRM program? I've written about it: nothing worse than oops, having your best customer see that deal you offer the other guy – and he can't get the same.
Catch #3: Why buy the cow when you get the milk half price? Once you start discounting, you better have a plan for making the higher prices seem like a bargain.
These are but a few questions small business owners have to ask – and answer – when trying to be smart using daily deals. Smarter still – take a harder look at the chances you take devaluing your brand when you jump on the social deal bandwagon.
Anything they can do…
Your small business can do better! That local wine shop has started running its own promotions, and from what I can see, doing well. Ditto the Fifth Group Atlanta restaurants.
Are the big deals right for you or are you better off going it alone? Depends.
If no one knows you're there and it's worth the risk of devaluing your brand, you may need the reach and exposure of a Groupon or LivingSocial. If you're already established with a loyal following, skip the middle man and offer a smarter deal to your fans. Let them buy, share and regift it to those more apt to be your target.
Long live the deal? Are deals here to stay or will they fade away when the next gimmick comes along? Have you been helped – and/or hurt – by a deal? Talk to me.
Want More? Keep Reading.