When Gini Dietrich wondered why her friends asked for referrals to other PR agencies, not if she could take on their business, my thought: it was too close for comfort.
People like that we like them, don't want to damage the friendship.
It's too hard to be candid, open, honest when money starts changing hands.
Friends don't want you in their private business, judging them, seeing their dirty laundry.
Circles of Friends
One reason I like the social side of the Internet is community. Being 1) a solo PR and 2) a chicken who hates the Atlanta traffic with the heat of a raging bull on crack eyeballing a red cape the size of Texas, I am a little isolated and don't get out as much.
I've met people and made friends online. I've developed great work relationships: people I'd love to have dinner with, be happy to offer the rides to the airport, share a glass of wine. But I will always keep some things private.
Then there are the real Circles of Friends: people you secretly hate, the ones you wish would hire you already, folks with bad taste in TV (raises hand) … and my theory of the smallest circle of all: the ones whose names you'll remember when you hit the lotto.
"Don't shit where you eat."
I love that line in Moonstruck for many reasons including the fact that I don't think professional and personal always make good work fellows, not sure if friends can be good clients.
A friend who's known you 20 years, well they know where the bodies are buried.. being a friend, they helped bury them right? Now of course in times of crisis, we step up and help out our friends but what happens next? If you know the working together won't work for the relationship do you bow out? How to say "No" to a friend and not also damage the relationship?
How close is too close?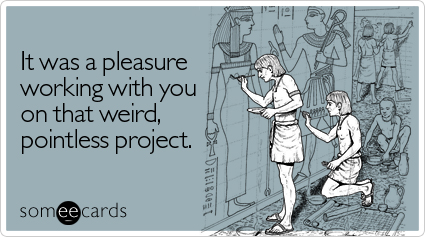 Grr.. I'm falling into this trap of asking questions rather than offering answers, and while I may not have a solution, here are some ramblings that may help. If you do want to work with friends, you have to establish some ground rules.
Business is about relationships, don't let that scare you.
Not all relationships are friendships and 'friends' will vary greatly. Blame The Facebook for corrupting the 'friend' word.
If you're already worried about the work damaging the relationship, that's a sign to sit down and discuss it before you go any further.
It can be nice if a professional relationship turns personal friendship, but you can't let that get in the way of doing business.
Take the friend out of the equation if possible; maybe find another point of contact within the company.
Want to hire me? Read this blog, check my tweets, maybe even peak at my Klout score to see if I know WTH I'm talking about. (Yes, I feel dirty just typing it.)
If you get frustrated while working with a friend and think "if this was any other client, I'd …" Game over. You've already lost.
Anyone have an success stories or personal nightmares to share from working with friends?
Photo credit: Someecards twofer. 
Want More? Keep Reading.