BALANCE I've decided is a mythical creature that not only shits rainbows and farts glitter, it belches pretty fireworks too. Balance is right up there with the Tooth Fairy, a decent romantic comedy and 'healthy' fast food. Be it wine, personal vs. professional time, marketing oneself.. balance is the real trick when in it comes to self-promotion.
Too much. 
Popup ads asking for my email address before I read your post.
Tweets set on auto-pilot constantly linking to your 'hire me' page.
Blog comments all over the Internet sharing 'hey I wrote about this once' links.
Websites and blogs junkified with as many 'subscribe, download, buy' buttons as you can find.
Not enough.
Going all the way to the end of the dock, baiting the hook, casting the line, getting a bite.. then not reeling the fish in (not asking for the sale).
Not telling people more about what you do, not having that elevator pitch perfected. Yet. (I hereby fine myself in Kangaroo court.)
Not sharing your own semi-readable blog posts a little more often. (Introversion rears its head.)
Open sign is not enough.
Yes that's what it boils down to. I remember thinking, "Mack Collier just tweeted about his phone-consulting rates, that's a little bold." Until a few days later I realized I'd give away lots of valuable social media marketing advice to a damn tire kicker, in violation of my own consultation rules. Facepalm! (H/T Mack.)
I get asked for advice, tips and referrals. I know it's not like prom queen Gini Dietrich, people thinking maybe I am unavailable or too expensive. Not sure what the problem is other than I can't tell better others what I do. (Another fine for not updating the website already.)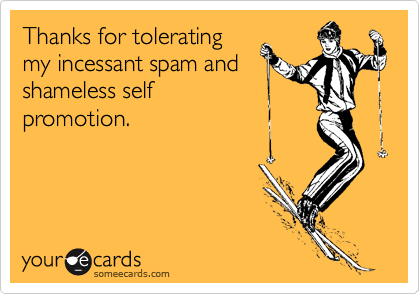 I don't make the over-promotion rookie mistake, but I don't know how to sell without selling either. Thanks to Laura Click and Shakirah Dawud for the kick in pants, Jayme and The Sales Lion and Erica Allison too.
SMBs, I'm the Communications Consultant your droids are looking for
Lots of companies and small businesses can't afford a full-time MarComm manager; that's where I come in, pinch hit and get what you need done.*
I do public relations. Corporate and marketing communications, employee relations and yes, media relations as publicity is a part of PR too. This is integrated with social media, assisting you on everything from Facebook pages, Twitter to making sure your blogs and content don't stink up the joint. I'll help with your graphic design, so hopefully your ads don't look like they were done by a sophmore using 12-year old clipart. When someone gets your business card, they'll have an idea about what you really do because I've advised against using some bullshit job title. I'll help you make the most of your events, so that regional meeting or convention for your franchisees doesn't put attendees in a boredom coma before the first coffee break.
Still can't figure out what I can do for you and your business? Well I'll sit at my iMac all day, typing and tweeting, swilling Coke and watching Hulu. No wait, that's for me. I save you money by sparing you some growing pains, helping you get it right the first time. I help you find and target your audience, tell your story in order to grow your business. And as you can tell, we may just have some fun too.
Thoughts? To self promotional? Not enough? Anyone hiring?
*For the right deal, I could be a full-time pro. Or paid to write about TV and wine and Disney World all day. 😉
Want More? Keep Reading.