A few months ago, I asked my readers: iPhone 4 or wait for iPhone 5?
And the winner is: iPad 2.. which wasn't even in the running, talk about a dark horse victory. BTW the official poll results were split, between comments and tweets. All the comments helped as I was leaning towards waiting iPhone 5, but then things got interesting.
Jayme Soulati chimed with two things: 1) lifetime costs with data fees and 2) how much she used her iPad 2, while Adam Toporek mentioned the iPad's limitations as a laptop-replacement.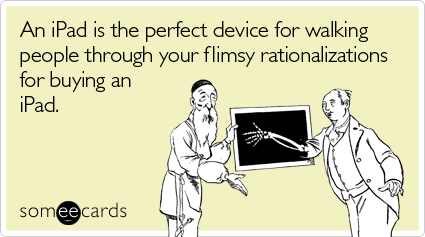 "I am my office," which was my reply to Bill Dorman's quip that he takes what the office gives. So true, what I spend on one thing is money I can't spend on another. Right now I'd rather be travel poor than technology poor, even for pretty Apple porn.
"Left to gather dust,"  mentioned Shonali Burke of adding another device to what she already uses. OMG. My big iMac is my principle work machine so even the latest MacBookPro won't compete with that gorgeous wide screen. Crazy to imagine such a device (which I was considering later this year) collecting dust and yet, per my current workflows it really would. Hmm…
And that was that. After playing with a few friends' iPads, I realized that I don't need a workhorse machine (MBP) for the road just yet, and knowing I don't want the fees or the constant connectivity of a smartphone, the iPad 2 was an easy decision.
Benefit to a small business marketer:
Crowdsourcing. Focus groups. People have opinions. People like to talk.
Use your blog to find out what people want, ask questions and get context and qualitative answers often missing from traditional surveys. If there is something about your product or service that could be improved, help them be happier or get more work done, turn more profit .. many of your readers will be happy to share.
Even better, the answers may lead in completely different directions, maybe even new service or product ideas.
This was time well-spent developing relationships with friends who just may have the answer. FWIW.
Want More? Keep Reading.