I used to think that what Facebook was doing 'wrong' was not giving people more control over their audiences, what they share with whom.
Is Twitter random?
I agree with most of Mitch Joel's points on Twitter, but for the reason that Twitter is [not] random. People use Twitter for:
Easy IM chatting tool with friends, share Tumblr posts.
Lifestream to anyone or no one listening, except us slimy marketers of course.
Business pros like to connect with other like-minded professionals, quickly and simply.
Marketers want to pimp their wares and spammers want to give me free iPads and cheap Viagra.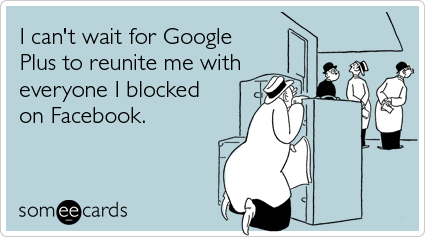 I have a personal Twitter account that is interest-specific. Some nice friendships have developed as my friends and I chat, get to know each other. My 3HatsComm about is about networking with peers and potential clients. Nothing random about them.
Facebook is the reunion
Tisha Berg wrote something to that effect in a comment. Once the initial rush of connecting with old school chums, far flung family members, the fervor dies down. Fun to play your BFFs in some games, but after a while it's about you: where you've been, posting what your kids are doing. Look at me.
When you open up Facebook to 'Friend' anyone – unless you put them in a List via the labyrinth of privacy settings – you run this risk of your boss seeing that nekid keg stand picture your idiot roommate from sophomore year decided to upload and tag. Beyond the embarrassing and career damaging, there's the irrelevant… too many updates that have nothing to do with what interests me right now.
Google+ tries to Circle the 'problem'
In creating its network Google counters the Facebook List with a Circle. The concept – other than to attract folks to its cloud and gather data to perfect search, sell ads – I think is to give me control so I can:
Write any old thing I want to share with anyone.
Post the 'hey look at my EPIC World Changing blog' link for everyone to ignore at their leisure.
Maybe chat up with friends about my favorite TV shows with only those people on that page or hangout having access, other personal and professional connections being none the wiser that that's really how I spend my time. 🙂 Emoticon for accessory. Or not:
Share the 'cruising vacation wackiness photos' with the few friends I trust enough not to rebroadcast or tag it, with privacy settings that mean it's not findable anywhere else. – HA! Believe that, I have THE real estate deal for you; there's a big SHARE link under everything.
Different is good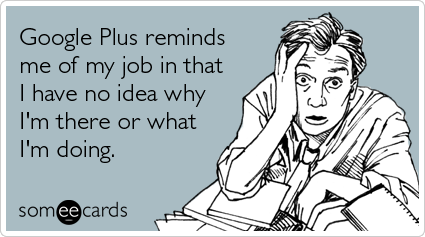 I do this already, separate work (LinkedIn, Twitter) from play (Facebook, other Twitter).
Google+ is very nice, but I'm not using it differently. Yet. First thing I did was create a Twitter-Business-Blogging friends circle. When it's more open to the general public (see also, everyone else I know – none of whom give a rat's ass about being 'social') I'll still have different circles.
What's still missing?
If it's not the networks that are broken, then it's the way I use them? Or rather the way I think of using them. TEHO. We'll always use these our own ways, so what I may want to filter may not matter in any way to others. I've already liked how I've used G+ for some discussion, how it's not being programmed or gamed – yet; just curious about control, what will be searchable and shareable to others, not to mention what happens when the API opens up as it evolves.
Are you using social networks differently? Do we need ONE network to rule them all?
Want More? Keep Reading.