In an attempt to be a timely blogger, I'm foregoing my nonexistent editorial calendar for the following hat tip:
Well played Yankees, Nice Job.
httpv://www.youtube.com/watch?v=48r4IQTB3NE
Hurricane Irene rocked the Carolina coast and northeastern states over the weekend and while there was tragic loss of life and significant damage, power outages, flooding still an issue, most of the states faired well. Why? Prior planning prevented poor performance. That and NYC beat the Cantore jinx, with Irene dropping to a Cat 1.
"Get the hell off the beach."
Snap! to Governor Chris Christie of New Jersey in a nice moment of take-charge frankness. See also New York Communicator-in-Chief Mayor Michael Bloomberg who shut down the city and essentially told folks, they were on their own if they were foolish enough to mess with a storm like this.
In an age of 'too big to fail' shenanigans, crap indecision that pretends to be leadership – and as someone who raced in with water and supplies to family post-Katrina (granted, a much more powerful storm) Mississippi – it was nice to see leaders actually LEAD with smarts, bluntness and expect some personal responsibility of their citizens too.
Did you see it coming?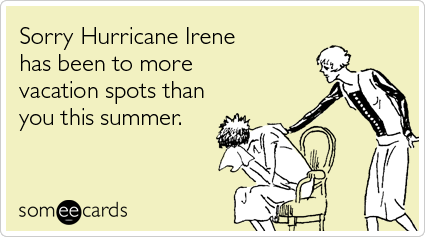 That's one thing you don't always get in a crisis: Warning.
Unlike some natural disasters such as hurricanes or a snowpocalypse that somehow 'surprised' Atlanta with FAIL, catastrophies like tornadoes and earthquakes don't call first. They just show up on your door and demand you deal with them. Right. Now.
See also, accidents, illnesses; production delays, recalls; customer service complaints; and a list of possible PR nightmares that goes from here, to there, and back.
As a manager or a PR pro developing a crisis communications plan, you need to consider the variables and develop your workflows accordingly, i.e human error vs. natural; levels of severity, scope and breath of impact and so on.
Watching interviews with various state and city officials, it was clear that plans were implemented, chains of command were activated and there would be NO Monday-morning finger pointing. They were going to get this thing DONE.
Anyone out there in the northeastern states, please tell me how you thought communications efforts were managed. Just an observer, love to hear your thoughts too.
Media credits: A Someecard and that Weather Channel commercial just cracks me up.
Want More? Keep Reading.