As in books. Those paper things. The non-fiction business variety. The last one may have been the 7 Habits of Effective Title Writers are Owed Some Royalties back in college.
Why the hell not?
1. Ain't got that kinda time.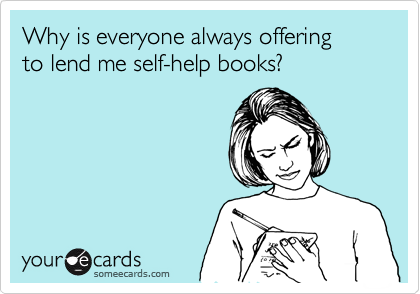 I'm a slow reader, takes me forever to scan a post or magazine article. I haven't read a novel for fun in ages; I no longer subscribe to print editions of well, anything.
Working 60+ hour weeks between work working, networking for business either online or in person, client working, running the business admin working – my free time is precious.
It's hard enough stepping away from the Twitter and the email and there is ALWAYS some epic stuff going doing down on the Internets!!
When I shut it down, that is it. Sitting around reading the latest and greatest tomes on PR, marketing, social media measurement – even if highly recommended by someone I trust – tempting, yet not my idea of a good time.
2. As a matter of fact, it IS all about me.
This is what I think Twitter and RSS and everything are gearing us towards: curators of our own little worlds. See Neicole Crepeau for details. I pick what I want, glance at something that may catch nt eyes and leave the rest. Which yes makes me horribly myopic and self-centered, so I step out for engagement.
News: Atlanta news, sports, business, small business, the latest Apple updates for new iToys, the mindless chatter about celebrities I pretend to be above caring. Transparent Disclosure: When I'm out and buy a print paper, I opt for a USA TODAY vs. an Atlanta Journal-Constitution or New York Times. Not because have a greater interest in general, national news – I just like the puzzles better.
Industry: blogs about public relations, social media and marketing are good and plenty. Check my blogroll and tweets; I'm covered.
Relaxation: I go back to magazines and blogs, message boards and forums and good gravy the Interwebz are dangerous. If I have an itch for something, I search to scratch and find more than I bargained for.
3. Less is More.
I like good writing, I do and I read all the time: blogs, magazines and news. I've read 6-page (web pages) articles in the NYT on occasion. But it's the 500- 1000 word blog post or magazine article that gives me what I need in the time I have. In convenient bite-site forms.
Throw a search stick and you'll hit an article on anything, be it a rant on public relations or a recap of one of my TV shows. Reading less of one, I actually get a lot more of many others.
Feel free to think less of me, or recommend that ONE book that'll change my mind and help my business.
Photo credit. Beware the Someecard: the touchy feely self-help yoga crap that is supposed to be a motivational kick in the ass, only tends to annoy me. A lot. FWIW.
Want More? Keep Reading.