How's that for a click bait headline?!
Apple Makes News
The reason business movers and shakers follow Apple – and especially small business – is because they make news. More than a story teller, Apple is a story maker. It's the best litmus test for any press release or store opening or sales pitch.. if you're not Apple, then try again until you've got real news.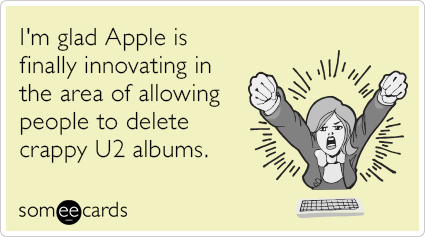 The news these days: new iToys, new iOS, more moves towards global consumer domination and one really bad PR move.
The Little Things are HUGE
As a free gift with purchase, Apple decided to give every iTunes account bearing human – approximately 1 out of every 8 people who call Earth home – the newest U2 album. For free.
Sounds great right, free music so what could go wrong? It's such a little thing, I mean .. not like it was Nickelback or Bieber (and yes I know I'm not the only one to crack that joke).
Oh so very wrong. From the moment Apple pushed U2 onto people's accounts, sans their consent, many decried the brand overstepped. It was such an unpopular move, they had to release a U2-B-Gone tool.
Bonus: a few of my favorite #FirstWorldProblem Apple U2 Tweets.. the tamer ones at least. That last guy had a ton. heh.
That U2 album could be a 50 minute spoken word ISIS recruitment tape and no one would ever find out. — Josh Patten (@thejoshpatten) September 18, 2014
If you listen to the free U2 album backwards, you will still be pissed off about it. #DailyConspiracyTweet — Joseph Scrimshaw (@JosephScrimshaw) September 17, 2014
I'm upset about the horrid working conditions in the Chinese factories that make iPhones but I'm FURIOUS Apple gave me a U2 album for free. — Anthony King (@theanthonyking) September 17, 2014
All of the people whining and complaining about Apple "shoving" a free U2 album in their iTunes account need to get a grip. Ultra #FWP — Paisano (@Paisano) September 13, 2014
Just came home to find U2 painting my house.  — Steve Mieczkowski (@IGotsSmarts) September 16, 2014
Respect Your Customer. It's Their Choice.
We hate spam. We had interruptions and noise and anything we didn't ask for. If we want it, we'll subscribe, we'll opt-in.
Had Apple had pitched this idea to me, my advice would have been: give people a choice. Give them the album as a code or credit to their iTunes account, and if they buy U2 so be it. If not, let them buy whatever the hell they want. Done.
How different would the story have been? How much PR goodwill would have been earned? Hell, how much money would have been made from people who might have bought the U2 album and more?
People like free. We like bonuses and extras. Except when we don't. That's our choice.
You? Did you download or delete? What were your favorite tweets? 
Want More? Keep Reading.