This is NOT going to go political. "Good luck with that," I know you're thinking.*
An exercise in keywording
I'm attempting to 1) newsjack a trending topic and 2) win at the SEO buzzword bingo.
Yes it's important to think about keywords. Of course, we all need readers for our blogs – the right ones. Beyond that, is all traffic good – or is it traffic for traffic's sake?
Like Dan Perez, I get eyeroll strain at the tenuous-at-best connects some writers take to connect the buzz-of-the-moment to some perfunctory post on social media or public relations. Ahem, now for my turn to make this more than shameless linkbait crap.
The Scenario: If you're reading this, odds are you've returned from your vacation on Bora Bora or Jupiter long enough to hear that Chick-fil-A has PR issues. Not going to rehash them – it goes into things religious and political and all manner of subjects this shy, Southern girl does not discuss in polite company.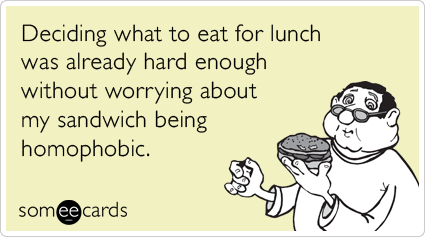 FWIW one of the best posts I've read has been Rachel Evans talking to Christians on both sides of the Chick-fil-A issue.
A different perspective
The other night night on Facebook, a fan post on Chick-fil-A's wall caught my eye. (Apologies, I CANNOT find the link. My total bad.)
A woman was thanking the company for making her husband's 'welcome back' lunch special. He had recently returned from Iraq and the manager made it patriotic – and picked up the tab. IIRC, there was nothing about the current debate. At the time, it already had more than 23,000 comments.
Skipping past the politics, think of all the things a brand must do right: Community. Value. Engagement. Loyalty. Such an outpouring of support.
As I scanned a few comments, one simply read: "It's not a great company [or brand] did this; that was a great manager." Or probably the franchise owner. Lightbulb.
Culture means Business
Brands are made of the actions of their employees; are employees (or franchisees) responsible, accountable for everything the brand does? After the BP oil spill, I remember more than a few stories of local BP-owners asking their community not to boycott, reminding them that they are their friends and neighbors – and shouldn't be punished for what BP did.
Great managers make for better brands. Strong brands make good managers even better. And companies that have strong sense of leadership, of service and value, develop cultures that mean better businesses.
To wit a New Hampshire Chick-fil-A is sponsoring a gay pride festival – thanks to its franchise owner. (h/t Judy Gombita) I don't know if other franchisees can do the same – or if corporate will push back. But it's a sign of strong culture that lets leaders lead – their own way.
Time will tell
Not so long ago I wrote that "Chick-fil-A is the Disney of fast food."
I don't know when or how this furor will die down for Chick-fil-A. I do know that while they've made mistakes, they've also done things very right – good product and excellent service have build great fan loyalty. And because they have strong leaders throughout the organization, because they want their franchise owners to be the best, the CFA brand will probably stay strong.
*Comment time. Any definitions of marriage or political rants on hate speech, leave 'em elsewhere or they'll be deleted. If you have observations on how Chick-fil-A has been managing this from a PR or social media perspective, do share.
Want More? Keep Reading.