Ok, so this is a twofer this week, blogging about blogging, but damn it.. this is my blog.
All drafted up, nothing to post
Between drafts in Word, in WordPress and now my beloved Evernote, I have many ideas for posts kicking around. And yet, nothing is really publish ready; it's half-baked or half-assed, or it's too much of the same old stuff, doesn't hit any of my targeted goals.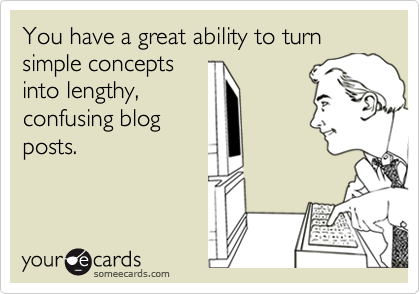 Perhaps it's the goals that are the problem, or the focus of the blog – too much vs. not enough – as I run into many of the mistakes you can make that cause people not to read, comment or share your blog.
Google+ aka the Mini-Blog
When things are too short for a post, I've been sending those nuggets of random to Google+.
Disney Verizon-only app.
Brilliant poem on SEC football.
Blogging, social, networking – the usual suspects.
The idea has been to mix up from what I share on Twitter, perhaps walk that tightrope in the balance of personal vs. professional. It's been good as I've joined and started some nice discussions, seen some things I would not have otherwise.
Thinning out
I'm still using Twitter while enjoying Google+, remind myself LinkedIn does work.. even lurked my Facebook of late. Latest to the mix is StumbleUpon, which I'm finding it a little like Flipboard. I'm considering stumbling my own blog once in a while, since pimping to SU is the hot new traffic driver,
Perhaps my branching out from the blog to other platforms is an issue, I've spread myself too thin. Right now, I'm also distracted – trying to get everything done before I enjoy an offline vacation in a couple weeks.
Getting from draft to done
I'll defer to the wisdom of The Gambler: know when to hold 'em, fold 'em, know when to walk away, know when to run. If there is some 'there' there on an old draft:
Turn to your latest reading, updated links might be all it takes.
Look at recent events and current news; a tie-in to a PR flap or marketing mismanagement can breathe new life into old draft.
Review older posts, see if you can repurpose them with the newer stuff.
Go back to the beginning, what sparked your interest in the first place, then give it another go.
If there's still nothing I can really use, I'll delete the drafts and just move on.
How long do your posts sit in draft mode? Is there such as thing as too long before they go stale? 
Photo credit: May I never run out of Someecards.
Want More? Keep Reading.