WHAT are you doing reading a blog today? Seriously, stop.
Get out the office.
Step away from the computer.
Put down the smartphone.
Nowish. (Or in 5 more minutes.)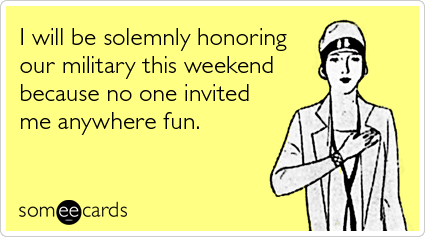 A History Lesson
This may come as a shocker but Memorial Day is not all about half-priced mattresses, furniture sales, summer deals marketing ploys; not about blockbuster movies and school ending sending thousands of idiot teenagers onto my highways; not about giving bankers, postal workers and government employees a day off.
While it may be debated when and where it exactly started, Memorial Day is about honoring those who've served this country and died. Doesn't matter what you think of past or current political administrations, various military interventions around the world, right now there are men and women fighting and dying.
I'm lucky to have grandfathers who survived long military careers but many sons and daughters, wives and husbands, mothers and fathers aren't. We owe so much to those who have and do serve.
Say thank you to a soldier, sailor, marine or guardsman (or woman).
Attend a parade. Clap and cheer as loud as you can, they've EARNED it.
Take in a ball game, give silence, take off your cap and show respect.
At the beach, the barbeque STOP for five minutes and remember WHY you are off work this Monday.
This is as close to serious as I get. I'm sure I'll be back to silly by Thursday. FWIW.
Want More? Keep Reading.