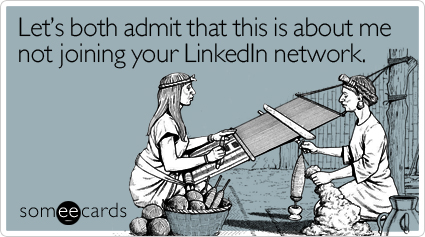 I don't know you.
You have to set your social media boundaries, and when it comes to my professional reputation I mean business.
I don't know this user. I do not click that button; I think LI needs a better reject or decline option. But if we've never chatted on a message board, haven't talked on Twitter, why would I?
We are not in the same groups.
We have not done business together.
We did not go to school together.
We don't share the same connections.
Even if we are all of those things, it still doesn't mean that I know you. Just because we read the same blog post, like wine and breathe air doesn't mean we're connected.
Networking (adding connections or friends) is not counting marbles, for me it's about professional development. LinkedIn is your online resume, your "professional" face to the world.
Now I know some smart people not on LinkedIn. For the link juice to my own site and blog, IMO it's worth maintaining a strong LinkedIn profile just for the SEO. YMMV.
The Business Side of Social Media
Sure there are virtual friends in my LinkedIn connections, people I know via Twitter, LI groups and blogs. While we may not have met "in real life," very real relationships have been made.
LinkedIn can be a powerful networking and business development tool. I have answered questions, shared blog post and other articles with my groups. It's helped me connect with smart people, increase my blog readership and grow as a professional.
Like anything else with social media, LinkedIn is not "set and forget." You get back what you put in.
You're a Diva, Rock Star, Maven? So big with the NOT caring
Random LinkedIn requests are just as odious as the "thanks for following, here's the link to my useless FREE crap" Direct Messages (DM) on Twitter. Ugg. (I don't do that, promise.) LinkedIn is a social network to be sure, but it's still about making connections, not selling yourself (even if you are looking for a job).
I love meeting and connecting with new people, but I'm not going to help you pad your numbers.
Do you connect with anyone and everyone on LinkedIn? Please share why or why not.
Want More? Keep Reading.