It's not exactly a 3rd-grader's goals for the year, but if a kid can get away with this, why not? A few things I figured out this summer.
Planning Pays Off *
I'm a planner, makes things easier (usually). When I go somewhere, I want to be there, enjoying that time – not surfing the web, not standing in lines, not hunting for dinner making that decision take too long.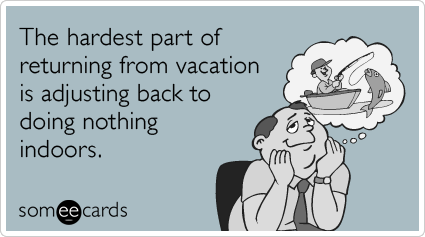 Two ways to save money; either plan and pay in advance or wait for a last-minute deal. The Catch is that 'deal' may cost you more in the end, depending on other arrangements. Try getting a bargain flight for a holiday weekend sometime.
No last minute this time, things were set months ahead.
* Except when it doesn't.
One nit to pick – and I've done it before (one of my first, terrible posts) – is when a company undercuts themselves, you call them on it, then they don't honor their own sodding 'price match' guarantee.
Exceptions, conditions, fine print drafted by little devils using a micron laser, exclusions, hoops made me outside the deal – I get that. But when that's the case, it makes me second-guess the brand, particularly when the "Low Price" Guarantee isn't worth the website, links, ads, buttons, it's PLASTERED on as the CORNERSTONE of the brand's marketing UPS. Ahem.
I won't necessarily take my business elsewhere – but I'll rethink some planning and if caught outside the Early Bird window, that Wait and See prices will start looking mighty tempting.
Apps make the World Go 'Round 
Kayak price alerts made the planning go smoother, saving me time and money not having to shop around for flight deal. When my fares dropped, I got an email and done, snagged a little credit on Southwest for next time.
Priceline. Switched to desktop this time, but still a must for any deal hunter.
It was so handy having my confirmations in TripIt. Hotels, car, flights, cruise and more – all organized in one place and my calendar.
For the day at Disney, looking up show times and seeing ride wait times via their park apps was a plus.
ScoutMob. Atlanta based, would love to see them expand. A deal could have easily wooed us as we walked around downtown Miami.
No wait, I totally knew that already. It's true – we need breaks, we need to escape.
Whether it's the freedom of being disconnected, the carefree mind shift of sipping a frozen beverage poolside, vacations and breaks help us recharge, reset, revive. (Need to stalk companies offering unlimited vacation time, see who's hiring.)
Went to Key West, I confirmed that cruising much better than driving (and getting stuck in traffic). I ate too much on the cruise ship, learned the Thriller dance (again). Oh, and the water around Grand Turk is bloody gorgeous.
That is all.
New places, good food, different experiences mixed in with some comforting favorites – travel is just my thing. Have any favorite travel apps? Any vacation Do's or Don'ts? Besides the rest and recharge, what do you get out of vacation?
Want More? Keep Reading.