|
Most of my F&F roll their eyes at blogging. Even those who spend hours each week on Facebook, commenting on sports message boards, all matter of 'online' activities – they still have little respect for the blogging arts.
Reach out and Connect
Now I make fun of blogging as much as the next person, know we are often just talking to our keyboards or each other if we're lucky. But I do recognize its power, often point out to them that 'this article' they liked, 'that site' they always read is or was essentially, a blog.
Blogs – in their many forms like WP, Tumblr, even Facebook and Twitter's micro version – have reach, the possibility to make connections.
Lightning in a Post
In the past few weeks, two stories kinda lit up the old blogospherenets.
Jeremiah Owyang's Obit for the Golden Age of Tech Blogging spawned a lot of rebuttal, some in his comments but mostly via other blogs. Holy trackbacks, Batman I stopped counting at 3 dozen.
Forbes' role playing, navel gazing as a Poor Black Kid, which sparked thousands of comments and feedback, so much they included a few rebuttal posts as an Editor's Note to the end of the story.
I want that!
Not so much the negative feedback, but that kind of reach, that kind of connection. To hit on 'something' in a way no one else ever has before or even just stir up the kind of meaningful, substantive discussion.
I write primarily about public relations and social media, marketing ideas for small businesses. Unlikely I'd ever have the reach and impact of these posts, but in my own little corner of the Interwebs, why the hell not?!
I want to build the blog to help build my business. It's one of my goals (resolution post pending – due any week now) for 2012, get more targeted eyeballs and feedback for the blog. The trick is how?
The Great Debate. I've got opinions and ain't afraid to share them but disagreements and controversy, not my style or always right for my blog.
List posts. Yeah, these make the rounds. I'd have to do them in my own way so they weren't as dry and sucky as much of the crap out there.
Blogging about blogging. Tech tips or echo chamber water cooler chat – this post would be the latter – writing for bloggers is an easier well to tap into, get myself some quick trackbacks and RTs. Except other bloggers aren't always the eyeballs I'm after.
Better content that you can't get elsewhere. It's what I've been trying to do, what I'll keep doing.. producing usable, valuable advice for SMBs trying to improve their marketing communications, build their businesses via public relations and social media. With a side order of humor and inspired blogging, I hope.
Blogging, Power Ups
Ever had a post that sparked a fire, good or bad? Is this something you want, to write something that resonates with others? Read a powerful blog post and thought, 'I want that!'? C'mon, talk blogging to me.
|
Ok, so this is a twofer this week, blogging about blogging, but damn it.. this is my blog.
All drafted up, nothing to post
Between drafts in Word, in WordPress and now my beloved Evernote, I have many ideas for posts kicking around. And yet, nothing is really publish ready; it's half-baked or half-assed, or it's too much of the same old stuff, doesn't hit any of my targeted goals.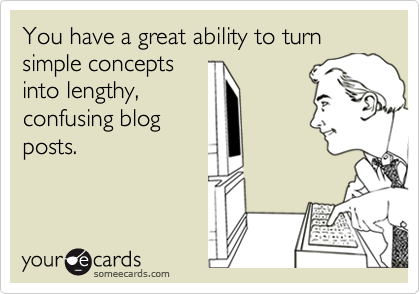 Perhaps it's the goals that are the problem, or the focus of the blog – too much vs. not enough – as I run into many of the mistakes you can make that cause people not to read, comment or share your blog.
Google+ aka the Mini-Blog
When things are too short for a post, I've been sending those nuggets of random to Google+.
Disney Verizon-only app.
Brilliant poem on SEC football.
Blogging, social, networking – the usual suspects.
The idea has been to mix up from what I share on Twitter, perhaps walk that tightrope in the balance of personal vs. professional. It's been good as I've joined and started some nice discussions, seen some things I would not have otherwise.
Thinning out
I'm still using Twitter while enjoying Google+, remind myself LinkedIn does work.. even lurked my Facebook of late. Latest to the mix is StumbleUpon, which I'm finding it a little like Flipboard. I'm considering stumbling my own blog once in a while, since pimping to SU is the hot new traffic driver,
Perhaps my branching out from the blog to other platforms is an issue, I've spread myself too thin. Right now, I'm also distracted – trying to get everything done before I enjoy an offline vacation in a couple weeks.
Getting from draft to done
I'll defer to the wisdom of The Gambler: know when to hold 'em, fold 'em, know when to walk away, know when to run. If there is some 'there' there on an old draft:
Turn to your latest reading, updated links might be all it takes.
Look at recent events and current news; a tie-in to a PR flap or marketing mismanagement can breathe new life into old draft.
Review older posts, see if you can repurpose them with the newer stuff.
Go back to the beginning, what sparked your interest in the first place, then give it another go.
If there's still nothing I can really use, I'll delete the drafts and just move on.
How long do your posts sit in draft mode? Is there such as thing as too long before they go stale? 
Photo credit: May I never run out of Someecards.
|
If a picture is worth a thousand words, what are words worth?
Business professionals write everyday, often having never majored or minored in grammar, English or communications: emails, TPS reports, white papers.
Marketing, PR and social media types write even more: blogs and comments; case studies; press releases and pitches; short, pithy, and hopefully share-worthy tweets.
Elegant phrases or funny quips, copywriting, fiction, dialogue for stage and screen – I miss having a Joss Whedon show on my TV – I likes me some good writing.
Writing to be Heard
"I have a dream that my four little children will one day live in a nation where they will not be judged by the color of their skin, but by the content of their character."
Purposeful pauses and passionate delivery, Dr. King gave this sermon using cadence and rhythm to build and connect with the crowd, some of it ad-lib in the moment.
"April 4, shots ring out in the Memphis sky. Free at Last. They took your life but they could not take your Pride."
U2's Bono sings those words heartfelt, strong, resilient; poetry to be song from the heart and soul (even with the 80s hair).
Writing to be Read
I like to read snarky TV recaps and sportswriter Rick Reilly. I read a host of blogs because they make me laugh, think, grow as a communications professional. For example:
"When the dust and paint settled, what was left were two painters, some townspeople and the most powerful and beautiful shade of dark red anyone had ever seen. It covered streets, signs, people and walls. Silence once again reigned as people stared, stunned."
Joey Strawn, Now Selling Red, a powerful marketing parable about competition and customers, about growth and opportunities.
"The very wrist which were once used to orchestrate and create are now dry, callus, and weak from carrying the weight of the steel. I was a prisoner of my past. My 'history' controlled my future."
Get These Chains Off of Me, which I've linked to it before but worth a visit if you haven't already, by Frank Jennings who brings it with that post.
As I think about content, about the style and patterns to my writing I know that is how I plan it. The humor, the impact, the reveals, the object lessons on public relations and social media: it is written to be read.
In today's complicated business world, good writing – effective, powerful communication – will always be worth a thousand pictures. Thoughts?
Photo credit: I also miss the writing of Waterson's Calvin and Hobbes.
|
Been on a resolution kick to up the blog, but stumped. Have a few things in draft but nothing ready to publish. And I'm already feeling some burn out, can't get how those who crank out posts every day. I can hear your eyes rolling from here: What. EVER.
What's my problem? Take your pick.

Shorter blogs are supposed to be the thing, unless it's an epically, ironically long guest post. I try to do 250-word gems. Does. Not. Happen. My wit is wordy.
I have a style. I try to bring funny, to make the educational less tedious, the informative, not boring as hell. But considering some of the dialogue on some of my lesser TV choices these days, I ain't sweating that anymore.
I overthink my audience, my blog SEO. Trying to keep it small business, Atlanta, marketing, PR.. all "hire me" and "aren't I smart" subliminal messages designed to lead me to world domination, pressure of my content marketing strategy.
So it gets forced, not fun. Which is the sign to stop.
Stop. Drop. Roll with it.
I've blogged about ways to spark creativity before and it all comes down to this: inspiration can come from anyone, anywhere, anytime.
Write something else: a poem or a word game may lead you to shorter, tighter, funner blog posts.
Read a book. Read nothing. Watch something or nothing. Play on Twitter, then steal someone else's idea.
Unplug or walk away, put your inner smartphone douchebag or Internet junkie on hold and act like a person for an hour.
Listen to strummy, emo alt rock. Watch some kitten porn. I hear talk of games on Facebook, try that.
When desperate I'll clean, do laundry. Cleaning out the clutter around the house, sometimes clears the cobwebs in my head.
When that doesn't work I just start typing, see what pours out of my fingers. Typer's block is one thing I don't have. What do you do?
Photo credit: I miss Calvin and Hobbes, still have half a dozen books.