|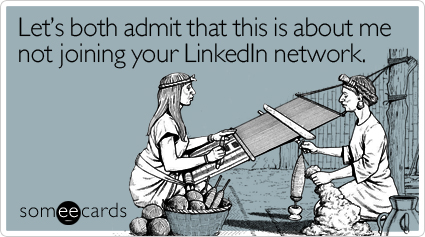 I don't know you.
You have to set your social media boundaries, and when it comes to my professional reputation I mean business.
I don't know this user. I do not click that button; I think LI needs a better reject or decline option. But if we've never chatted on a message board, haven't talked on Twitter, why would I?
We are not in the same groups.
We have not done business together.
We did not go to school together.
We don't share the same connections.
Even if we are all of those things, it still doesn't mean that I know you. Just because we read the same blog post, like wine and breathe air doesn't mean we're connected.
Networking (adding connections or friends) is not counting marbles, for me it's about professional development. LinkedIn is your online resume, your "professional" face to the world.
Now I know some smart people not on LinkedIn. For the link juice to my own site and blog, IMO it's worth maintaining a strong LinkedIn profile just for the SEO. YMMV.
The Business Side of Social Media
Sure there are virtual friends in my LinkedIn connections, people I know via Twitter, LI groups and blogs. While we may not have met "in real life," very real relationships have been made.
LinkedIn can be a powerful networking and business development tool. I have answered questions, shared blog post and other articles with my groups. It's helped me connect with smart people, increase my blog readership and grow as a professional.
Like anything else with social media, LinkedIn is not "set and forget." You get back what you put in.
You're a Diva, Rock Star, Maven? So big with the NOT caring
Random LinkedIn requests are just as odious as the "thanks for following, here's the link to my useless FREE crap" Direct Messages (DM) on Twitter. Ugg. (I don't do that, promise.) LinkedIn is a social network to be sure, but it's still about making connections, not selling yourself (even if you are looking for a job).
I love meeting and connecting with new people, but I'm not going to help you pad your numbers.
Do you connect with anyone and everyone on LinkedIn? Please share why or why not.
|
Another Friday, another day to recommend folks to follow on Twitter. I try and take the time to THINK about who and why I recommend people. It goes back to my first Five to Follow Friday Challenge.
If someone is out here on Twitter, then they kinda sorta already are in social media. After a while, you do tend to see, read, share the same info over and over.
I'm always looking for more. I read that @MackCollier follows 15K Twitterers. I've been more generous with the Follow button lately, but I still feel like a slacking slacker who slacks, not even following 1K.
Here five folks to follow, from different walks of life that hopefully you'll find interesting:
See folks, it's not that hard. Got someone new for me to check out, please leave your suggestion in the comments.
|
Inspiring this blog post is Augie Ray of social media and Forrester fame, who tweeted this gem today:
The latest numbers show most people give Twitter a 10-tweet tryout and give up. Augie wanted to know why people quit on Twitter.
He got a few interesting responses including:
Twitter is not for Quitters
I am not telling you how to Twitter and am all for finding your own way. That typed, 5-minutes a day and 10 tweets isn't engaging. It is drive-by shotgun marketing, just shooting farts into the wind.
Would Coke run five commercials and stop? Would Apple try only one iPod and never make changes? Of course not; you have to try, try and try again. Find what works, make it your own.
My response, which he retweeted (and thanks for that Augie):  "Didn't realize Twitter was work. Like anything- you get back what you put in, SM takes investment of time and commitment."
Tough sell: Social Media is Work.
Just this morning I read a post about a blogger who put the time and work in to blogging and tweeting, and as a result is working for P&G at the Olympics. While others consider Twitter a time suck, she invested that time and energy and it paid off for her and her business.
Social media is job and for any kind of connection or business success, networking is essential. Twitter can be a powerful and effective tool, if you commit to it.
Don't get me wrong, I know we in social media, PR and marketing take ourselves (and our blogs and tweets) too seriously at times. I know so many folks with "real" jobs that don't involve any SM, or even online presence and just roll their eyes when I mention Twitter. (I know more people NOT on Facebook than on, just say typing.)
Twitter is not for everyone. If you want Twitter to work for you, you gotta work at Twitter.
The point of this Code Yellow rant is simple: Twitter is Work.
|
(aka The obligatory New Year's blog)
Expecting a countdown of best Social Media moments or worst Public Relations goofs for 2009? A list of top SM or social marketing or PR trends for the past year? Not here. Marketing predictions or PR Trends for the future? Nope. A "touchy feely self-help yoga crap" blog full of introspection and optimistic BS. So not gonna happen.
I am closing out the year with a little recap. In 2009:
I have invested time networking and connecting. And in many ways, it's been one of my most productive years.
I've read, shared, linked and retweeted countless blogs and stories. And I added my two pennies worth of comments quite a few times.
I've taken control of my online identity via Twitter, FriendFeed, LinkedIn, and my Google profile. And locked down (as best I can) the crappy Facebook privacy settings.
Like other public relations professionals, I studied and followed social media. And now I am applying what I've learned and continue to learn everyday, adapting and using it to help myself and my clients. I have embraced social media and social networks with both hands, and I am a better communications professional for it.
Oh and I cleaned up my office a little this morning, reducing the clutter for 2010. That is all.
Now back to work.
|
Caught the very good The Blind Side the other night, and looking forward to seeing it again. A true-life story as only Hollywood can do, The Blind Side is a movie about a kid with nothing who, with a lot of hard work and a little help from people in his community, achieved success.
Think about social media: community, crowd sourcing, public relations, protecting the brand, connecting with people, and most of all, giving and sharing of yourself and your ideas. Generosity leads to success.  
In the movie a football coach persuaded his private school employers to give "Big Mike" Oher a chance in the hope that one day, he'd get a ball player in return. At first, Michael struggled. But then he got noticed. First to spot him was Mrs. Tuohy (Sandra Bullock), who took him home to live with her family. Second to catch on were his teachers.
Social media is about connecting with the real lives of people. Do you follow the same sports teams, like wine, have similar hobbies, go to the same restaurants? The more you know about someone, the better you can help them.
As they got to know him, Michael's teachers began to realize he was learning…just not in the traditional ways. Instead of forcing their pigeonhole state mandated guidelines, they taught and tested him in a way that fit his style. Soon he began writing and testing well enough to play football. When Michael got off to a slow start at football practice, Sandra Bullock lectured the coach as only a pushy parent can do, "You got to learn something about your players."
In public relations, you do not pitch blind. You read the blogs, the stories, the Twitter profiles; you follow and comment and learn the writer's audience and interests, you connect. It's about giving a reporter what they need to do their story, not just getting them to write yours.
Michael Oher is a left tackle, an offensive lineman responsible for protecting the quarterback and running back, a pivotal position. Public Relations and Social Media Managers, that's what they do: they listen, monitor traffic, watch for opportunities to promote the brand (skillfully done by Michael's little brother), and when necessary, protect the brand and its blind side.
The more successful Oher and the football team, the more connected to his schoolmates and community. The Tuohy family, the school and the community gave Michael Oher a home, an education and opportunity. If you see the movie, you will see how much he gave them right back.
In social media we share our ideas and expertise, in the hope that it will help the community, which in return, helps us. We learn what else is out there, see things in new ways, we learn how to give back, and how to watch the blind side.