|
Customer. Service. It's not that hard. Put the two together, snicker at your 'service the customer' joke and then get it done.
Mistakes are not the problem. You are.
You are the problem – if you're the hotel manager that ignores valid, negative criticism. (And yes, you totally should reply to bad reviews.)
You are the problem – if you don't make it right.
You are the problem – if you run a restaurant and your SM strategy is bashing the competition, fake Yelp reviews and buying Likes.
You are the problem – if you don't stop, listen and learn from it.
Latest on my "I won't be going there again" list: alterations service. Nice woman, helpful, good if a little expensive – I'd been going to for years. I've referred F&F, been a reliable customer.
What happened:
When picking up one (very pricey) job, I dropped off another quick, easy one. I returned more than a week later to get it and.. she totally forgot. Strike one. She hemmed and hawed, rushed apology.. later today, no maybe tomorrow. Strike Two. When I picked it up the next day, she coupled a mild 'sorry' with a grand gesture of $2 off. Strike Three, way outta there.
"I can have another you by tomorrow. So don't you ever for a second get to thinking you're irreplaceable."
You tell 'em Beyonce.
I didn't make a big stink but my body language was clear that I was displeased. I don't think I'll be back.
The next time I need something hemmed or tweaked, my fingers will do the walking. Right over my keyboard or flip through some apps on my iToys, find a new place. (BTW Fingers already made a stop at Kudzu, to post a this cautionary tale.)
Not only was a stronger apology in order, I don't think they should have charged. At all. Even better, why not – to show me they can and will keep doing it right - a 20% off coupon for the next time?
My dry cleaner did that; they fixed their mistake with customer service and that made all the difference. Why? Because they know that they may not get three strikes. They know that paying will cost, but not paying will cost more. They know that I can all too easily bring my business elsewhere.
A hotel, a restaurant, or dry cleaner, so many businesses – they are all very replaceable. What's irreplaceable? Service that's good for the Customer.
What should they have done for my time and trouble? What does your business do to do right by your customers?
|
Time IS Money. Period.
You either have one or the other – and if you're hella lucky, both. The problem is most people – especially small business owners, start-ups trying to launch – have neither.
Something's Gotta Give
What usually gives for most struggling SMBs: The Plan. It's why so many never get off the ground.
If you don't have money, then you have to put in time. I doubt you learned about content marketing, R&D, HR in kindergarten; back to school for you. Get ready to Google, get ready to learn Accounting, sit down and bring a lunch as you learn WordPress and HTML and everything the web can teach you about SEO. You'll be at the computer for the next year, no bathroom breaks.
Maybe you've blown your wad on the lawyer or the accountant or finance guys? That's important, but not everything. What's the key part of any business plan? Ask Groupon, Facebook, Twitter –  rhymes with 'the how you'll make money' part.
Do It Yourself – NOT Alone
A friend tells me about another friend, bamboozled into a $150 web hosting contract. A. Month.
I thought, "wait, people are that dumb?" and then remembered that while I can't find them, suckers are born every minute. They buy into bullshit all the time.
Luckily this person was able to cancel in time, but what of all those other small business owners out there who get roped into websites and phone book ads and overpaying for business cards (peeve!!) and all the other crap they THINK they need?!
You need a plan. You need an advisor.
You need to market yourself, your business, your service.
You need to see the big picture, know who your customers are (and aren't) – and what's in it for them, and how to say reach them.
In order to do that, you need someone who knows how to communicate.
I'm not saying you have to pay someone else to do it all; of course you'll be doing a ton of work yourself. Look at risk vs. reward, what's worth your time and what's worth knowing. Learning SEO and web strategy and CRM can only make you a better business manager, keep you from being sold a case of snake oil. Learning copywriting or how to use Adobe Illustrator, not so much. Find someone who'll skip the bullshit, stick to the marketing, the business essentials.
WWWWWH
Find someone who can help you ask – and answer – the right questions: Who, What, When, Where, Why and How. You've got a story to tell. And if you don't even know what it is or how to say it, then your first move – find someone who can.
Find someone who can explain the difference between a 'cheap' website vs. one that's professional and affordable. Talk with a professional who can help figure out what you should DIY; what you can't, and what you shouldn't attempt on your own. (If I had a dollar for every shitacular ad or brochure design made with PowerPoint and stolen web images that I was supposed to use/cleanup, I could by my iPhone 5.)
Take that budget you were going to waste on the world's worst direct mail list that was a great deal because it was so cheap, or paying some agency to 'blow up' your social media web presence with automated crap, and hire a professional. The Pros Knows hows to get you more bang for your buck, spend less to get more, saving both time and money.
What's in it for you? Doing it yourself, not alone.
Photo caption: how 'bout those LSU Tigers, a DIY R2 D2 beer keg?!
|
This is NOT going to go political. "Good luck with that," I know you're thinking.*
An exercise in keywording
I'm attempting to 1) newsjack a trending topic and 2) win at the SEO buzzword bingo.
Yes it's important to think about keywords. Of course, we all need readers for our blogs – the right ones. Beyond that, is all traffic good – or is it traffic for traffic's sake?
Like Dan Perez, I get eyeroll strain at the tenuous-at-best connects some writers take to connect the buzz-of-the-moment to some perfunctory post on social media or public relations. Ahem, now for my turn to make this more than shameless linkbait crap.
The Scenario: If you're reading this, odds are you've returned from your vacation on Bora Bora or Jupiter long enough to hear that Chick-fil-A has PR issues. Not going to rehash them – it goes into things religious and political and all manner of subjects this shy, Southern girl does not discuss in polite company.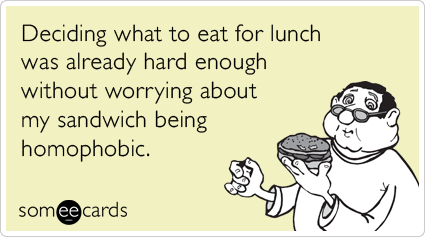 FWIW one of the best posts I've read has been Rachel Evans talking to Christians on both sides of the Chick-fil-A issue.
A different perspective
The other night night on Facebook, a fan post on Chick-fil-A's wall caught my eye. (Apologies, I CANNOT find the link. My total bad.)
A woman was thanking the company for making her husband's 'welcome back' lunch special. He had recently returned from Iraq and the manager made it patriotic – and picked up the tab. IIRC, there was nothing about the current debate. At the time, it already had more than 23,000 comments.
Skipping past the politics, think of all the things a brand must do right: Community. Value. Engagement. Loyalty. Such an outpouring of support.
As I scanned a few comments, one simply read: "It's not a great company [or brand] did this; that was a great manager." Or probably the franchise owner. Lightbulb.
Culture means Business
Brands are made of the actions of their employees; are employees (or franchisees) responsible, accountable for everything the brand does? After the BP oil spill, I remember more than a few stories of local BP-owners asking their community not to boycott, reminding them that they are their friends and neighbors – and shouldn't be punished for what BP did.
Great managers make for better brands. Strong brands make good managers even better. And companies that have strong sense of leadership, of service and value, develop cultures that mean better businesses.
To wit a New Hampshire Chick-fil-A is sponsoring a gay pride festival – thanks to its franchise owner. (h/t Judy Gombita) I don't know if other franchisees can do the same – or if corporate will push back. But it's a sign of strong culture that lets leaders lead – their own way.
Time will tell
Not so long ago I wrote that "Chick-fil-A is the Disney of fast food."
I don't know when or how this furor will die down for Chick-fil-A. I do know that while they've made mistakes, they've also done things very right – good product and excellent service have build great fan loyalty. And because they have strong leaders throughout the organization, because they want their franchise owners to be the best, the CFA brand will probably stay strong.
*Comment time. Any definitions of marriage or political rants on hate speech, leave 'em elsewhere or they'll be deleted. If you have observations on how Chick-fil-A has been managing this from a PR or social media perspective, do share.
|
Old school, new school – we see it all. Luckily we can learn something as we watch others use new tools and tactics to make the same old mistakes.
Trickle down leadership.
Employee relations is about more than getting your company listed as a 'great place to work' and the 'suit-n-tie office types' vanity mentions in the business paper. Bottom lines are key; ignoring those that get you there – the front line – is a huge mistake. Success starts on the front line, not in the executive lounge.
HR is sometimes thisclose to PR says Leon Noone; your employees often ARE your brand. How will you hire or retain any employees worth a damn if you don't effectively recruit, motivate and train them?
Lesson: Communications; if you don't know what your USP or elevator pitch is, you can bet your employees won't either. Train your employees. Make sure those on the front lines – with customers, vendors, investors, other employees – are empowered to do their jobs, know they have a voice in making positive changes.
Duck and cover. Run and hide.
Ignore your competition and critics. When 'no comment' is rarely an effective communications strategy, you stick your head in the sand. You don't answer the frickin' phone because really, there's nothing anyone likes more than talking to machines. Oy.
One of the biggest customer service mistakes ever – ignore the negative feedback and the opportunities they can bring. Firms charge big money for marketing research. Your naysayers on Yelp and your blog are working for FREE; zap the trolls and can spam for sure but don't dismiss their constructive criticism.
Lesson: Step up and face the firing squad. Make things right, reshape your story; learn something that can help grow your business. I still think about how well the Red Cross handled a mistweet; they admitted it, apologize, accepted responsibility – sans panic – and moved on; would that more companies would do the same.
Follow the leader.
The other day I was at Lenox Square (Atlanta mall) and I actually shook my head all 'tsk, tsk' as I passed by the look-alike Microsoft store. I cannot think of a worst message to send than "if they can do it better, we can follow and do it our own, crappy way."
It's quite sad that one of the wealthiest, most successful companies on the planet is copying a company who was once just nipping at their heels. Hell Apple still only has a small (but growing) share of the PC market. They managed to pull ahead by creating new industries – portable music made easy, the mobile-app world made easy – by looking ahead, by driving what consumers will want.
Lesson: One way to beat the competition, stop trying to be them; be you, only better.
Do less, Cost more, Live in the past.
So Facebook changed their rules. Again. Some more.
Facebook isn't betraying your business; you are if you don't find ways to adapt to those changes, make them work in your favor. Manage the tools, don't let them manage you.
Someone else found out how to make/sell what you do 1) better 2) faster 3) cheaper and with 4) better service. You can complain about 'big chain' this or 'bad economy' that when the reality is: the way you've always done it ain't working anymore. You lost.
Lesson: Improvise, adapt, overcome. When was the last time you updated your independent store, made it brighter, cleaner? Offered something the 'big box' didn't? Created a loyalty program? You play the Game of Thrones to win or you die.
Mistakes happen; hopefully, we learn something.
 Photo credit: Despair really gets business… and earns mine all the time.
|
Interesting if simple feel good movie, I thought Big Miracle did a decent job of showing what "PR" (public relations don't you know) really does or is. Spoiler alert - which may be unneccessary in an 'inspired by real life' movie but I'm adding it anyway - I'm going to give away big parts of the movie.
This isn't a review: not discussing the acting, the cookie-cutter characters or how bad I thought Drew Barrymore's hair looked. "PR" and in ways, 'social' was all over this movie (much like the modern-day Dolphin Tale) .. so I thought it'd make for a different kinda post.
The Original Filter Bubbles
There wasn't any social media in 1988. No blogs, no Google, no Citizen media armed with iPhones and YouTube. Media gatekeepers did the filtering.
There's a telling scene in the movie in which the evening news editor is deciding on what 'filler story' gets the last spot, typically something 'human interest' flavored. Better than war or jobs, whales sell. Ratings FTW!
Once national interests are piqued, everyone gets involved. The story goes 'viral' with impact on different groups, stakeholders ranging from school children to small business entrepreneurs to TPTB at the White House.
The Stakeholders
Greenpeace is the principle supporter of the whales (and antagonist of the business), first getting spurned by the Governor when asking for help. But once the public support is on the whales' side and the Governor is pitted against them, he's quick with the press conference to show he's changed his tune.
As is Big Oil, overtly doing this for the PR value; smile for the cameras as they realize good PR is good for business. Once the whales catch the eye of the White House, the politicians step in and use the military to help the whales as a means of 1) wrap up the Reagan administration with a bigger, shinier bow and 2) pass some of that 'tree-hugging' benevolence onto the voting public.
Local eskimos (and whalers) were the interesting group, who stood their ground fairly well vs. the Greenpeace rep. Showing great PR acumen was the wise old grandpa, who assured the others that no matter how well they make their case, "all anyone would see is blood" as he convinced them to help the whales.
Media. I liked how the story is 'localized' by kids, schools, business owners hundreds of miles away; smart publicity tactic.
I totally loved that once the story got even bigger, it's pulled from a junior reporter and given to one more senior, presumably based on his 'influence.' But then, he's outflanked anyway because the cub reporter has the relationships and is more connected to the key players.
The Twist
All these sides collide in some odd strategic alliances and the message is kept as simple as possible: help the whales or they die. In true Hollywood fashion, life surpassed art and threw in some wrinkles:
The military/Big Oil solution failed, leaving little hope or other options.
Supporters, swept up in the story, came to the rescue from parts elsewhere.
The last ditch option: those Red Russian Soviets.
Something for everyone
The movie showed how the different groups stayed on message, while each telling their own version of the story via a little savvy media relations.
Greenpeace, clearly pro trees and animals and fluffy bunnies; this gave them great exposure and public support (though I thought they didn't show as well).
Big Oil is magnanimous, making themselves look less evil, more sympathetic of the environment and more responsive to the people. The little bit at the end made me laugh.
As the cold war was thawing, pressure was placed on TPTB to look past the water's edge and do what was necessary. Letting 'the enemy' step in and save the day? In an election year?! The Politicos played this to their favor, all 'peace, love, goodwill towards critters.'
Movies like Glen Gary, Glenn Ross or Thank You For Smoking (fave!) have gotten it right before but it's rare. At a time when PR is misused, misdefined as just publicity and stunts (ala Sex and the City), it was nice to see a more accurate – if 'tweaked for Hollywood' – portrayal of the many different aspects of public relations.
If you see the movie, let me know what you think.
 Photos: © 2012 Universal Pictures.