|
This is good! Smart, clever and fodder for (hopefully) a quick-and-easy blog post.
Two Words. And a Gift in Return.
It's so simple right, "Thank You."
Maybe it's a little note card or an email, could be a DM or LinkedIn message — when someone does something for me, I try to say "thank you." I've got some cute 'coffee cup' note cards, even add Starbucks gift cards to them on occasion.
It's marketing. It's social. It's good PR. It's etiquette, good customer service. And how often we forget that a simple "Thank You" could be even more.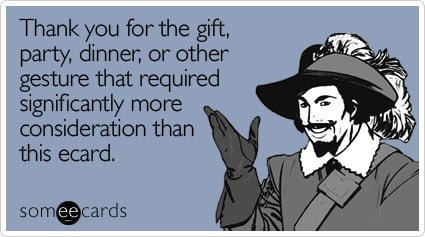 Daily deals being not quite dead yet, I ordered a Groupon a few weeks ago. It was a 6-pack of Cameron Hughes wines, a label I'd seen before and knew this to be a nice bargain for some drinkable vino.
"Treat every customer, online and in person, as though he or she is the most important customer in the world." – Gary Vaynerchuck, The Thank You Economy
Opened my box and inside was a great little "Thank You" postcard. On the back was a recipe for Chinese Spiced Pork Chops which would pair nicely with the wine, bringing the VALUE we so often speak of in hushed and reverent tones.
You bet I'll keep it, remember this label for years to come. It was a simple, cost-effective way to bring their brand to a whole new level.
Small Business, Take Note!
This wasn't an accident. This wasn't dumb luck. Someone developed a strategy for business success.
This wasn't a last minute whim, someone executed on a thought out plan with the customer in mind. This was professionally designed and printed, communicating a strong, positive brand image. Rather than just talking value, this brand delivered.
Think of the touch points you have with your customers – connecting doesn't end when the credit card runs through. What comes next matters.
This is why I reply to almost every comment, why I thank people for RTs – I truly appreciate what others do for me and want to make sure they know it.
Tell me: When has a brand or business surprised you with their service after the sale?
|
"Where to invest?"
A recent NY Times post asked that, a small business owner debating Google ads or maybe DIY social media for their marketing dollar investment. My response: invest in Help, Professional Help. Sigh.. here I go again.
Rewiring your house. Fixing your transmission. A decent hair cut. Taxes. We hire pros to do so many things for ourselves and our businesses. So many things we wouldn't even consider doing on our own.
DIY Communications? With professional results?
Do we think, because we've seen SuperBowl ads, that we understand the complexities of marketing and advertising, branding and media buying?
Because we've got PowerPoint, that we're graphic designers who can develop ads and websites? [deletes profanity laced Clients From Hell tirade]
A keyboard, Google and a reporter's email address does not a publicist make; certainly not when your pitch is 'We have a store. And sell stuff.' To the healthcare writer.
Skipping a 'have Twitter and a feedbot, instant social media guru' joke.
DIY or Go Pro
So much to consider when deciding when to hire a public relations pro, an agency or consultant.
For many small businesses the Director of HR is also the head of the company; the MarComm team is also the minds behind the software, the gadget, the service. Sometimes they're not always good storytellers or don't have the branding eye. Often it's a case of time vs. money, not knowing costing more.
DIY: You save money.
Pro: Really? To do it – anything – right, you will spend a lot of time and energy learning how. Then doing the work itself. Time is money.
DIY: You do it your way.
Pro: That could work – if it's the right way. If it's the wrong way, you'll waste a lot of time (and more money) on the wrong things. If you can't afford to get it right the first time, how will you afford to do it over? Or hire someone to fix it?
DIY: You do what you want.
Pro: What you want may not be what you need; a pro will tell you.
DIY: You'll spend less money.
Pro: Actually professionals work very hard to save clients money, are good at getting them more bang for their buck.
DIY: You can't pay someone.
Pro: You already are! What there's no one – on salary, drawing benefits – responsible for HR, PR, CRM, IR, MR and a million other things? How much of your job is doing all these other jobs?
Communications is everything in my opinion. It's connective, it's productive, it's as close to a silver bullet you'll ever find. I'm still writing that post, but the gist is that if you're business isn't communicating, then you're not doing business.
Sometimes businesses need ideas and advice, guidance and training; other times they just need to get things done. It's why I've learned Adobe CS and WordPress, how to research and write, constantly learn more about PR and social media strategy – so they don't have to.
DIY: You can't afford a professional.
ME: Can you afford NOT to?
Results requires more than an amateur effort; it takes a professional, even if it's not me. What's your experience? Do the Pros really know?
|
Before the Big Game I was tweeting that it's the Oscars for Advertising. Even more so in the Age of Social Media Madness, this one Sunday brings out marketing's biggest and brightest.
Ad Watching, Spectator Sport

Everyone has their favorites, lists of the best and worst of the nights ads, what when right and what went wrong.
Budweiser goes big with classic sentiment, edges Tide with baby Clydesdale Hope in USA Today's Ad Meter.
Audi makes a prom date, NFP drafts Leon Sandcastle while GoDaddy fails Branding 101.
Loved the fun "Seniors" spot, but Taco Bell did fumble on the social side. Had the team had a better grasp of 'social' and been ready for fan engagement on Twitter, Facebook, coulda been much more for the brand.
You have to make the most of that $4 million ad buy when you're going after a Big Game spot. It's a linchpin of your entire marketing, promotion, branding, hell communications plan. It's cornerstone – you can't 'set and forget' anything, can't silo it as 'advertising' or treat social and PR as afterthoughts.
Granted they had one ad that aired, but it was a Tweet Heard 'Round the World that got everyone talking about Oreo. It's 2013 and it's all about real time, about planning and being ready for anything. They had the war room staffed, leadership ready to make decisions – that is how Oreo pulled off Twitter Marketing Gold during the power outage.
Think Smart, Not Small
Most companies can't dream of a Big Sunday spot but they sure as hell can learn from the big dogs.
Power fail aside, this huge event all came together. Why? Preparation. Watch any of the behind the scenes specials, you'll see an army of folks working their asses off. Next year's game and next year's ads – yeah, they're already on that.
Planning is my schtick lately – mostly because it's impossible to do good work for companies that don't, brands that confuse tactics with strategy, leaders who think you can just wing it. You're leading your business, so lead.
Is it an event? A major email marketing program, linked to CRM? Are you stepping up your social and inbound? Major media push, integrating paid and earned media? You're putting all your eggs and budget in that basket – have you talked to HR, are employees all on message? Made sure the call center is ready? How good are your servers, ready to handle up-spike in traffic? If you're splashing social icons and hashtags on everything you share, are human people on the other end of the line?!
If you don't know the answers to those questions and gazillion more, then your webinar will be a total flop. If you didn't already bring in Marketing and PR, HR and Social, R&D and Finance all in the same room six months ago to strategize Your Big Game, then let me tell you the score: You Lose.
What is YOUR Super Bowl? And more importantly, are you READY for it?
|
"Is that the iPad? So amazing. Don't ya just love it?!" – asked my waiter the other day. Yes said I. Don't know if he has iPhone or Mac, especially as you consider this the sans-PC (née post-PC) era, but it goes to show.
VALUE
Pretty soon that too-often bandied about word will get the Unsuckit treatment, ala "term bloggers, marketers and other subhuman corporate-types use when blathering about quality, whilst trying to sell their latest app or book. Tool who said this also uses viral and eyeballs. " Kidding.
Couple people asked why I got an iPhone 5, wondered why I didn't opt for what they considered cheaper, better cough*Samsung*cough alternatives. Of course I looked. But I'm already invested in the ecosystem, and the iPhone will provide value now and probably years from now when maybe I sell it to upgrade.
The waiter, the ladies who do my mani-pedi – no one questions the value of the iToys. Most just wish they cost a little less. (See also, the rumored in-the-middle iPad Mini.)
As a business communication pro, it's easy to see the marketing and PR value of making products that are the message, that customers will gush about to F&F. So what happens when they fail?
Apple is Human? Say it ain't so.
I've been following the iOS 6 Maps disaster a little and am bemused by some of it. (I've gotten lost, but not really.)
I'm more intrigued by the 'rip off the bandaid' theories as Apple was facing a 'now or never' moment in its battle with Google's Android. But like the also-beta Siri, Maps is far from 'just works' Apple standards – so far that CEO Tim Cook even apologized. And the bottom line?
While some argue it hurts sales, others say the Great Maps Debacle of 2012 isn't a deal-breaker and iPhone 5 sales are just fine.
School's In, Lessons for Small Business
Econ 101. Supply. Demand. Interest. Say what you will, but the pipeline selling out of something only makes it more newsworthy and seemingly, more valuable.
Don't compromise. Stick to your strengths. Know yourself. Maybe Apple has piqued with the iPhone – because they got it "right" the first time. No reason to make sweeping, reactionary changes when smaller, smarter improvements are all that's needed to make a great product even better. You know, when they work.
Rethink the market, make it yours. They make good stuff anyone can use, enjoy, and they know it. They aren't just making product for Apple customers, they are making all people into Apple customers.
Is Apple mistake or marketing-proof? I don't know. I'd like to mess up, miss expectations so well.
What I do know is that – mistakes and all – stocks and valuations will continue to yo-yo while units sell. Expectations will be in the stratosphere, and Apple will keep right on moving with the aforerumored iPad Mini (which will fit somewhere between the Touch and iPad, but not that much cheaper? Still not sure on that one).
I know Maps didn't throw me or millions of other buyers off one beat. FWIW.
|
Time IS Money. Period.
You either have one or the other – and if you're hella lucky, both. The problem is most people – especially small business owners, start-ups trying to launch – have neither.
Something's Gotta Give
What usually gives for most struggling SMBs: The Plan. It's why so many never get off the ground.
If you don't have money, then you have to put in time. I doubt you learned about content marketing, R&D, HR in kindergarten; back to school for you. Get ready to Google, get ready to learn Accounting, sit down and bring a lunch as you learn WordPress and HTML and everything the web can teach you about SEO. You'll be at the computer for the next year, no bathroom breaks.
Maybe you've blown your wad on the lawyer or the accountant or finance guys? That's important, but not everything. What's the key part of any business plan? Ask Groupon, Facebook, Twitter –  rhymes with 'the how you'll make money' part.
Do It Yourself – NOT Alone
A friend tells me about another friend, bamboozled into a $150 web hosting contract. A. Month.
I thought, "wait, people are that dumb?" and then remembered that while I can't find them, suckers are born every minute. They buy into bullshit all the time.
Luckily this person was able to cancel in time, but what of all those other small business owners out there who get roped into websites and phone book ads and overpaying for business cards (peeve!!) and all the other crap they THINK they need?!
You need a plan. You need an advisor.
You need to market yourself, your business, your service.
You need to see the big picture, know who your customers are (and aren't) – and what's in it for them, and how to say reach them.
In order to do that, you need someone who knows how to communicate.
I'm not saying you have to pay someone else to do it all; of course you'll be doing a ton of work yourself. Look at risk vs. reward, what's worth your time and what's worth knowing. Learning SEO and web strategy and CRM can only make you a better business manager, keep you from being sold a case of snake oil. Learning copywriting or how to use Adobe Illustrator, not so much. Find someone who'll skip the bullshit, stick to the marketing, the business essentials.
WWWWWH
Find someone who can help you ask – and answer – the right questions: Who, What, When, Where, Why and How. You've got a story to tell. And if you don't even know what it is or how to say it, then your first move – find someone who can.
Find someone who can explain the difference between a 'cheap' website vs. one that's professional and affordable. Talk with a professional who can help figure out what you should DIY; what you can't, and what you shouldn't attempt on your own. (If I had a dollar for every shitacular ad or brochure design made with PowerPoint and stolen web images that I was supposed to use/cleanup, I could by my iPhone 5.)
Take that budget you were going to waste on the world's worst direct mail list that was a great deal because it was so cheap, or paying some agency to 'blow up' your social media web presence with automated crap, and hire a professional. The Pros Knows hows to get you more bang for your buck, spend less to get more, saving both time and money.
What's in it for you? Doing it yourself, not alone.
Photo caption: how 'bout those LSU Tigers, a DIY R2 D2 beer keg?!